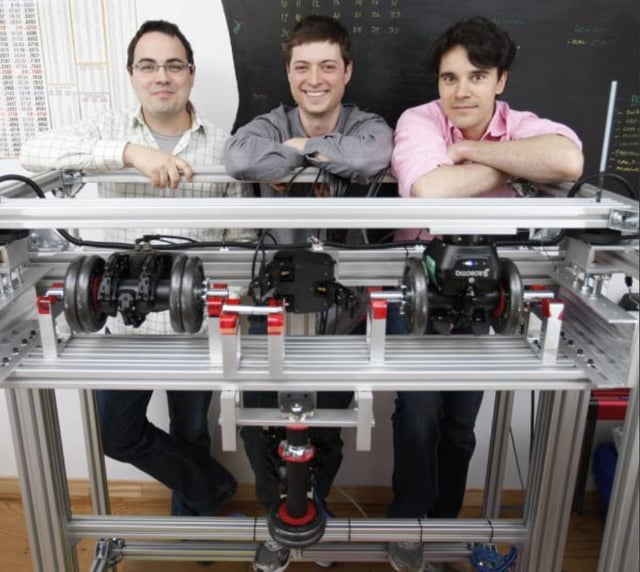 Robotiq was created by former graduate students. As such, we're proud to invest in the CoRoM program – Enabling Technologies for Collaborative Robotics in Manufacturing – which is a partnership between three Canadian universities, namely Université de Sherbrooke, Université Laval and ÉTS.
Robotiq was founded by three Université Laval lab-mates: (L-R) Vincent Duchaîne, Samuel Bouchard, and Jean-Philippe Jobin.
This training program is aimed at graduate students interested in the field of robotics, with the goal being to train highly qualified professionals in collaborative robotics for the manufacturing industry. Master's and PhD students will have access to a unique interdisciplinary training program. With access to industrial internships, this is a unique opportunity to dynamically shape their future careers.
Here's an overview of the program:
Real-life research projects with industrial partners
Industrial internship(s)
Scholarships
Summer forum in Advanced System Design, Creativity and Experimental Robotics
Adoption of Collaborative Robotics – a new course combining business, ethics, and technology
A growing set of technological courses available across the three universities
International student exchanges for PhD students
Development of professional skills in areas like leadership, communications, intellectual property, etc.
CoRoM represents a huge opportunity for us at Robotiq. We've always encouraged building a stronger link between academia and industry. It's our hope that they can work together for knowledge transfer, recruitment, and skill-building purposes.
Robotiq's CTO Jean-Philippe Jobin is proud to give back to students and eventually work with these new generation of robotics engineers. "Collaborative robots have huge potential, way bigger than industrial robots these past 50 years. In this emerging market, businesses like ours tend to grow quickly. We're always under pressure when it comes to recruiting skilled engineers to work with us."
The program and application process will officially launch later this fall (2017). To stay informed about the latest developments, contact us at [email protected]