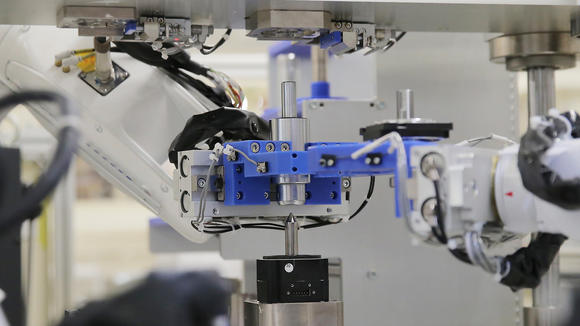 -Manufacturing & cobot roundup
-Yaskawa's parts plan
-Universal Robots 2017 revenue up 72%
-XPRIZE Finalists announced
-Meet Flippy, Curly & Super Monster Wolf
-And much more!
Manufacturing & cobot roundup
Industrial robot giant Yaskawa Electric is to start supplying core parts to smaller rivals in China this spring "in a strategy to leverage the fast-growing robotics market there."
Caption: Servomotors are used in the arm joints of industrial robots.
Via Nikkei Asian Review:
Yaskawa will sell machine controllers and servomotors — key components for robot control — in packages to several leading robot manufacturers in China. […] In a program similar to the "Intel Inside" campaign by the U.S. chipmaker, the Japanese company is even considering letting Chinese companies use the Yaskawa brand and sales channels when they sell robots containing its parts abroad.
Cobot maker Universal Robots released new figures that show the company reached USD170 million in revenue last year —a massive 72% revenue increase in 2017 compared to 2016. Universal Robots' operating profit more than doubled from 9 percent to 19 percent.
BMW/MINI is using a human-robot collaborative system for crash can assembly…
Voodoo Manufacturing Inc. is conducting trials with a UR10 collaborative industrial robot from Universal Robots and plans to introduce collaborative robotic arm technology to its Brooklyn, N.Y., facility by September.
Caption: Voodoo Manufacturing Inc. is testing cobots that are able to move products into and out of its 3D machines, refill resin filaments, and conduct 3D inspections.
RND Automation & Engineering created a modular robotic solution for coin loading and unloading, using the FANUC LR Mate 200iD robot…
Meet the Atom Lab's Robot Assisted Manufacturing System (RAMS). RAMS is an automated system for shoe processing that "integrates machines specialized in production operations and anthropomorphic robots for the handling of the shoe between operations"…
Meanwhile, Raconteur asked "Where does the birthplace of the first industrial revolution stand in the race to be at the forefront of the fourth iteration?" and AFR reported that Japanese robot-maker Fanuc is exploiting the Chinese robotics boom and subsequent demand).
This OpiFlex Flexible Mobile Robot cell automates three AP&T presses…

German robot maker Kuka is is targeting more than US$1 billion in sales in China by tapping into the Midea Group's network, according to a report in South China Morning Post. (Midea paid US$5 billion for Kuka in late 2016.)
Injection molders seeking machine tending, product inspection, and material handling capabilities have been turning to cobot Sawyer…
Lock-assembly firm Assa Abloy Romania is using a Robotiq 2-Finger Adaptive Gripper and Wrist Camera with a Universal Robots UR5 cobot for machine tending processes…
Meanwhile, Engineering.com explored "Five Key Machine Safeguarding Trends for 2018″; as robotics and A.I. proliferate in energy markets, ABB's is "primed to capitalize," says Forbes; and Robotics Tomorrow explored the "Pros and Cons of Pneumatic Robots."
Elsewhere…
XPRIZE has announced the nine finalists in its US$7 million Shell Ocean Discovery XPRIZE –a three-year global competition challenging teams to "advance ocean technologies for rapid, unmanned and high-resolution ocean exploration."
Via
XPRIZE:
XPRIZE will award each finalist an equal share of a $1 million milestone prize purse for the cutting-edge ocean mapping and imaging technologies they have developed [including] artificial intelligence, aerial drones, underwater robotic swarms, lasers, and autonomous surface and underwater vehicles.
Miso Robotics' Burger-flipping robot 'Flippy' started a new job in California…
The Guardian reported that two of the six collisions involving autonomous vehicles in California so far this year "involved humans colliding with self-driving cars, apparently on purpose," according to incident reports collected by the California department of motor vehicles.

Don't blink or you'll miss this robot solving a Rubik's Cube in 0.38 seconds…
In a conversation with Monica Daley from the Royal Veterinary College's Structure and Motion Lab, Robohub explored how roboticists can enhance their understanding of legged locomotion through the study of birds.
'Curly' the curling robot lost a match against humans…
Finally, the BBC reported on the successful Japanese trial of 'Super Monster Wolf' –a 65cm-long, 50cm-tall robot wolf designed to protect crops from wild boar.
Super Monster Wolf has an effective radius of about one kilometre and lights up its eyes and starts to howl when it detects an approaching animal.
The bot is now going into mass production and is expected to cost US$4,840 per unit.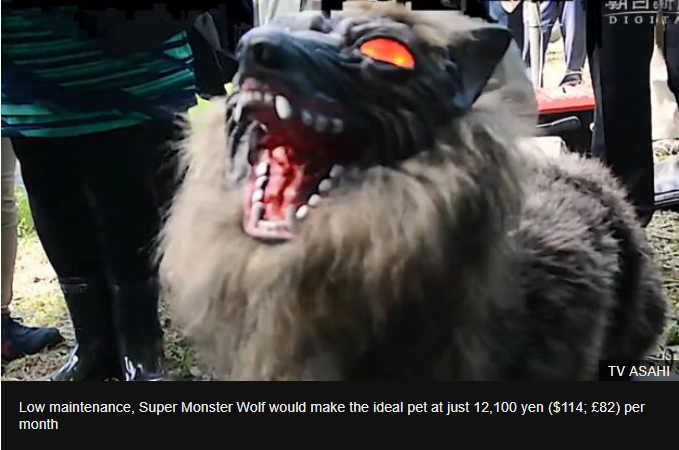 I'll be back next week with more news from the world of robotics. It's guaranteed to make your eyes light up. (Howling optional.)
Until then…
Five vids for Friday
1. The Institute for Manufacturing (IfM) opens its doors for the University of Cambridge Science Festival, Saturday 24 March 2018. There will be golf.
2. TechRepublic spoke with David Zarrouk, Director of the Bio-inspired and Medical Robotics Laboratory at Ben-Gurion University of the Negev, about the work he's doing to make robots for health care that are inspired by biology and nature.
3. Cornell's Mars Rover team is busy preparing its unmanned rover technology for competition.
4. ANYmal showed off some dance moves that would make Mick Jagger blush.
5. Tokyo University of Agriculture and Technology is developing controllers that enable "expressive robot arm movement during human and environment interaction."