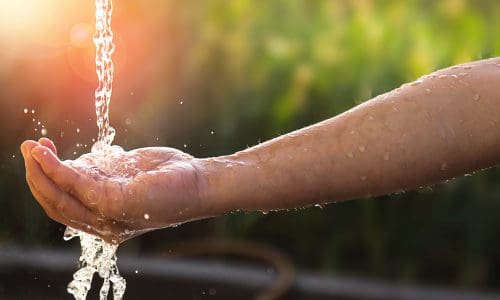 A Nashville school administrator has been placed on leave pending an investigation into a secret recording where he suggested sabotaging plans to remove lead from drinking water.
In 2016, Metro Nashville Public Schools began voluntarily testing drinking water after dangerous levels of lead were found in some of the district's schools. As a response, approximately 30 schools in the district installed hydration stations that filter out lead.
Dennis Neal, the executive director of facilities for Metro Schools, can be heard resisting the use of the filters in a secret recording, reports CBS News.
"They are adamant about them being filtered. I'm saying we can't — we cannot support it," Neal says. "We've got to figure out what we are going to do with these hundred, or 97, filtered ones that we have out there."
A woman can then be heard suggesting they break the lights that show when water filters need to be changed.
"Well, that's one thing. But we need to also probably, if we can, bypass the filter," Neal responds.
Neal is also heard discussing the cost of replacing filters.
"If we were to replace a filter, you're talking — I don't know if any of y'all have bought them — it's something like 70 or 80 bucks," Neal says. "That's almost $8,000 a year just for filters, OK, on what we have now."
Spokeswoman Michelle Michaud says she is concerned about the recording, but that the filling stations are expensive and the filters do not filter out lower levels of lead.
"It's a huge cost in the district. Hundreds of thousands of dollars," said Michaud.
Thirty-seven schools that showed lead levels exceeding the United States Environmental Protection Agency's recommended 15 parts per billion have been fixed, according to Michaud, but she admits that some schools still show lead levels deemed unsafe for kids.
Since last year, says Michaud, the district has replaced old water fountains, solder and pipes. The district also performs random samplings several times a year through a third party, reports the Tennessean. It also flushes water lines after long intermissions of non-use, such as summer vacation and winter break.
"We are committed to making sure that the water quality in our schools is as good as it can be," she said. "We are working with old buildings with pipes that are buried in walls of concrete. It is a construction issue, and as we are building new buildings and renovating schools, this issue will become easier to deal with."
The EPA estimates 90,000 public schools and half a million child care facilities are not regulated under the Safe Drinking Water Act since they depend on municipal utilities that are expected to test their own water.
The post Recording Reveals Nashville School Admin's Plan to Bypass Lead Filters appeared first on Campus Safety Magazine.