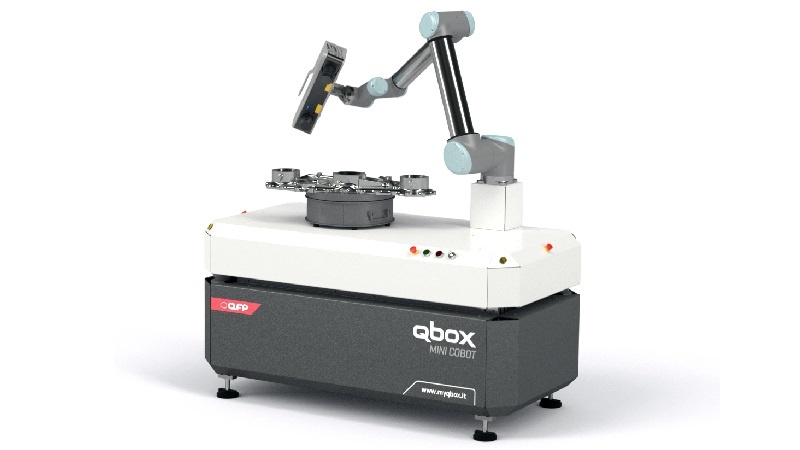 -Manufacturing & Cobot Roundup
-QBOX MINI
-PSA Group Embraces Cobots
-Robot fish (x2)
-Rodney Brooks on AI Prediction's 7 Deadly Sins
-The Humanoid With Jet Packs In Its Feet
-And much more!
Manufacturing & cobot roundup
QBOX added the QBOX MINI COBOT to its range. The new device provides automated 3D scanning and measuring quality control with a little help from a Universal Robots cobot.
Caption: The device's Zeiss Comet L3D 3D sensor automatically recognizes changes in vibration and exposure.
In an effort to combat health & safety issues and manual inconsistencies, PPC partnered with Scott Automation & Robotics to automate plasma treating of small plastic medical parts…
Asian Robotics Review explored the possibility of the factory in a box –a cobot and e-commerce delivery solution exactly tailored to SMEs' needs– and finds that the idea is not as far-fetched as it may sound.
ABB's YuMi cobot was spotted packing chocolates at IHS CERA Week 2018…

Traditionally, India has lagged behind the rest of the world in terms of automation adoption, with the latest IFR numbers showing the country has 3 robots per 10,000 employees (well below the global average of 74 robots per 10,000). But that might be about to change. Robot installations grew 27% between 2015-16, says Quartz, with the automotive and electronics sectors leading the charge.
igus has combined its robolink, drylin E and energy chain technologies to produce a multi-axis articulated pick & place unit. In the video below, two such units operate in unison via a matching control unit…
GREE, a major Chinese home appliance maker, is setting up unmanned factories and using industrial robots in a variety of production cycles, as part of its broader push to upgrade the country's manufacturing industry, according to reports.
With "built-in hand guiding functionality," HMK's TM5 cobot can be programmed to complete a simple pick and place in under a minute…
PSA Group, Europe's second-largest car manufacturer, is so pleased with the cost savings, improved quality and enhanced worker health & safety associated with cobots that after just 8 months using the technology, the firm plans to "modernize all of its European manufacturing sites with its patented production system" that integrates cobots from Universal Robots.
Researchers from the University of Southern California and the National Institute of Standards and Technology are developing a system that can enable fixtureless assemblies in human-robot collaborative workcells…
HANNOVER MESSE announced that the Global Automation & Manufacturing Summit will take place as part of IMTS 2018 in September and will focus on cybersecurity, maintenance and robotics.
In the next video, a SR-3iA SCARA bot from FANUC performs a 180-degree sweep from tray to tray in less than one second…
At a recent panel about the UK's future in industry 4.0, Patrick Schwarzkopf, managing director at Robotics + Automation Unit, VDMA, discussed the importance of human-robot collaboration, stressing "the need to combine human and machine strengths to boost productivity and flexibility," Government Computing reported.
KAWASAKI took a trip down memory lane and shared some video of its UNIMATE, the world's first industrial robot, which was introduced the world back in 1968…
Parcel delivery and logistics firm DHL announced that it is piloting a range of new connected technologies in the US, "including collaborative robots, AI, and augmented reality glasses."
Vanamatic has developed "In-house engineered collaborative robots integrating quality, removing repetitive motions and increasing safety quality and productivity"…
Elsewhere…
Researchers at MIT's CSAIL have created "SoFi" –a soft robotic fish that can swim on its own alongside real fish in the ocean. During test dives in Fiji, SoFi swam at depths of more than 50 feet for up to 40 minutes, handling currents and taking high-resolution photos and videos with its [ahem] fisheye lens.
Sofi isn't the only robotic fish in town (or the ocean). NYU News featured the work of researchers at the Tandon School of Engineering developing a robotic zebrafish that can mirror the behaviors of a living one.
Caption: A small team of post-doctoral biologists, engineers and psychologists at Maurizio Porfiri's lab are studying zebrafish, using a robot capable of tracking a live zebrafish.
Jeff Bezos was spotted out and about with Boston Dynamics' SpotMini…
Meanwhile, Nikkei Asian Review reported that a Japanese theme park has plans to replace a third of its staff with robots, NPR explored Harvest CROO Robotics' strawberry-picking robot, questions are flying as one of Uber's self-driving cars was involved in a fatal accident, Engineering.com looked at the "Top 5 Robocoasters and Robot Rides" and Wired reported on the PoulBot, a robot designed to "adopt" chicks so that researchers can study animal imprinting behaviors…
Rodney Brooks shared what he calls "The Seven Deadly Sins of AI Predictions" –the "mistaken extrapolations, limited imagination, and other common mistakes that distract us from thinking more productively about the future."
Five vids for Friday
1. Experts at Guangdong University of Technology's in China are running experiments that use small ducted fans embedded in the feet of a bipedal robot to change the bot's center of gravity, enabling it to balance as it takes giant steps over wide gaps that it normally wouldn't be able to cross.
2. Researchers at NCCR Robotics are using robot-assisted rehabilitation and electrochemical spinal cord stimulation, to enable rats with clinically-relevant spinal cord injury regain control of paralyzed limbs.
3. Scientists have developed a technique that uses a robot hand to restore intuitive feeling in people with upper limb amputations. A vibrating motor tricks amputees into believing they are receiving feedback from a muscle, extending their sense of self to incorporate robotic prostheses.
4. Mike Wilson, Business Development Manager for ABB Robotics and Chairman of the British Automation and Robot Association spoke at length about industry 4.0 and robotics…
5. Southwest Research Institute and the University of Pennsylvania are working on an unmanned aerial system that can fly into the containment vessels of the damaged units at Japan's Fukushima Daiichi nuclear power station to assess environmental conditions.