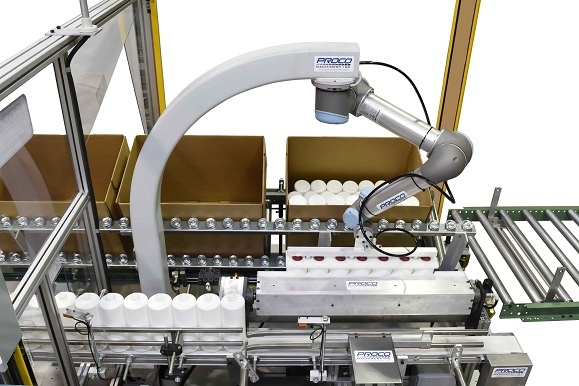 -Manufacturing & Cobot Roundup
-KUKA-Udacity Collaboration
-Dex-Net
-Digestive Tract Bot
-Construction Bots
-Festo's Flying-fox, Saharan Spider Bots
-And much more!
Manufacturing & cobot roundup
SME released "Smart Manufacturing: A Competitive Necessity," the first report in its 3-part Smart Manufacturing Report Series. The report "suggests first steps to embrace this opportunity to disrupt business as usual and drive productivity, quality and profitability."
E-learning platform Udacity has teamed up with robotics and automation specialists KUKA and the Karslruhe Institute of Technology to launch the KUKA Udacity Robot Learning Lab The lab allows students to "put working code on real industrial robots in a university lab environment via a web interface to validate their work"…
Kawasaki Heavy Industries Ltd.'s new "Successor" cobot system was profiled in Assembly magazine The Successor enables remote collaboration and is currently being used at a Kawasaki facility in Japan, producing hydraulic components. The bot will be commercially available to manufacturers later this year.
UC Berkeley Professor Ken Goldberg unveiled the latest version of the Dex-Net robotic system (which MIT Tech Review calls the "most dexterous robot ever created"). Using a YuMi cobot from ABB , the system can pick up around 270 items per hour…
Canada-based Proco Machinery announced that it will showcase two new products at NPE2018 in May. The firm's collaborative robotic Half-Cube Palletizer system and the Robo Packer case packer incorporate cobots from Universal Robots.
Caption: Proco recently used the Robo Packer (above) for production of a wide-mouth canister at a rate of 30 bottles per minute for each line.
Circular Wave Drive, a technology company that manufactures compact speed-reducing gears for robotics and applications, closed US$900,000 in seed funding.
KUKA is prototyping a robotic arm that works with a MakerBot 3D printer to speed up the manufacture of robotic arms…
We should think of automation as "a way to aid work," says The Irish News: "By collaborating with technology, rather than ignoring it, people will be able to move into more productive jobs that, in many cases, don't exist yet."
Alliance Automation developed a robotic system that can fully dismantle a wood pallet in under 30 seconds, allowing pallet manufacturers and recyclers to "reclaim planks and rebuild damaged pallets"…

Integrating a newly developed conductive ionic ink into the body of a soft robot "results in the ability to sense motion, pressure, touch and temperature with a degree of accuracy comparable to human skin," reports Engineering.Com…

Meanwhile, Sourcing Journal asked "Could Walmart's In-Store Robots Spell the End of Shelf-Scanning Staffers?", IDC explored the role AI can play in robotic-picking systems, and Robotics Business Review looked at some of the ways welding robots are being used to help combat labor shortages.
USA Today featured some of the robots helping auto makers in Tennessee…
Elsewhere…
Researchers from the Japan Aerospace Exploration Agency and Japan's Chuo University created a robot that replicates the involuntary wavelike contractions of the human digestive tract. Their aim is to test whether the technology can be used for properly mixing rocket fuel…
Reuters reported on the use of elder care robots in Japan to help meet the needs of its ageing population; China's ascent to its role as an official AI juggernaut has been "swift and powerful…and paid for in full," says Asian Robotics Review; and Construction machinery manufacturer, XCMG released "the world's first intelligent production line" for crane turntables.
Caption: XCMG's new automated line has a daily production capacity of 40 units.
An online survey of 502 individuals conducted by Embry-Riddle Aeronautical University found that people were "significantly less willing to undergo more invasive procedures, such as gum surgery and a root canal, and significantly more willing to undergo procedures such as tooth cleaning or whitening performed by a robot" –until the projected cost drops by half.
Surgeons at the Töölö Hospital in Helsinki, Finland, performed the country's first robot-assisted brain surgery.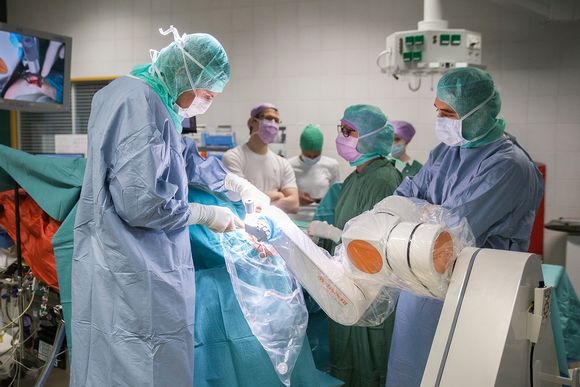 Caption: The robot made no incisions, but was used to precisely position the tools required for the operation. Image: Kari Ahotupa / Yle
Meanwhile, a Finnish school is running a pilot to determine whether robots can improve the quality of maths and language teaching; MIT's Cheetah III robot is preparing for life a a first responder; and Opentrons just announced a new, US$4,000 version of its small pipetting robot.
FESTO, the makers of brilliant bio-inspired bots (among other things), unveiled a robot based on the flying-fox…

…and a second robot based on the Saharan spider…
Finally, villagers in a rural part of India are turning to Husky the robot. for collecting water from a remote well. Husky can carry three 20-liter bottles at a time and is operated via remote control.

I'll be back next week with more news from the world of robotics. Until then…
Five vids for Friday
1. Researchers from Cornell and UC Berkeley are working on a system that enables a robot to effectively express itself to humans when it's incapable of doing a task. (H/T IEEE Spectrum.)
2. A team at The Ben-Gurion University of the Negev has developed a new type of snake-like robotic arm that could be used in space, agriculture, industry and search and rescue. (H/T Design, Products & Applications).
3. ETH Zurich researchers are testing a new method of automated construction. (H/T dezeen.)
4. NVIDIA CEO Jensen Huang's keynote address at the GPU Technology Conference 2018 in Silicon Valley included several references to robotics and AI. Highlights include unveiling the NVIDIA DGX-2 for Deep learning (1:08:57) and a section about how automation boosts every industry (2:11:18).
5. The CAMERA project is a collaboration between HAL Robotics, InnoTecUK, ABB Robotics and Skanska to develop a mobile robotic arm for use on construction sites.