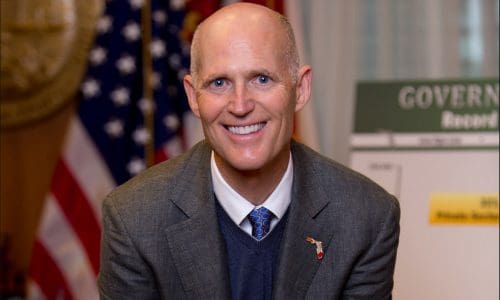 A University of Central Florida student who was temporarily banned from owning weapons or ammunition after praising mass shooters online is now free to purchase a gun, a judge ruled.
In early March, Orlando police used Florida's new gun legislation to temporarily ban 21-year-old Christian Nicholas Velasquez from owning any weapons or ammunition, reports The Orlando Sentinel.
City officials were seeking to extend the temporary ban for one more year, which Circuit Judge Bob LeBlanc denied.
"I don't disagree with the issuing of the initial temporary injunction. I think that's exactly what the statute provides for," LeBlanc said. But he declined to extend the ban.
Velasquez is the first person the Orlando Police Department obtained the "risk protection order" against, which allows law enforcement to seize firearms from those deemed to be mentally ill or who present a threat to themselves or others.
UCF Police Investigated Student Following Online Praise of Mass Shooters
An investigation into Velasquez began on February 10 after UCF police officer Jeffrey Panter received tips that a Reddit user named "TheRealUCFChris" was referring to the Parkland and Las Vegas shooters as "heroes", according to News 6.
During an interview, Panter asked a series of hypothetical questions about committing a mass shooting. Velasquez said he would probably do it at the middle or high school where he was bullied instead of at UCF. He also said it would take a lot to "push him over the edge" to commit a mass shooting, such as a breakup or being fired from a job.
Velasquez was then taken to a mental health facility under Florida's Baker Act, which allows for the involuntary detainment of someone believed to be a threat to themselves or others. A doctor evaluated him and deemed he was not a threat. The student was never arrested or charged with a crime.
Panter, an FBI agent and an Orlando detective all went to Velasquez's home where his father voluntarily gave them his legally owned revolver and allowed them to search his son's room.
Following the investigation, UCF issued a trespass order against Velasquez as his conduct is being reviewed by the university, says UCF Police Department spokeswoman Courtney Gilmartin. He is also banned from all Orange County Public Schools.
Alexander Karden, the city's attorney, says the intent of the newly created legislation is to allow courts to order mental health treatments before a person commits a violent crime.
Karden also says psychological evaluations have placed Velasquez on step three of five in advancement toward committing violence.
"He's following the trajectory. This statute is not designed for someone who's already gone over the top. It's designed to stop them before they get there," he said.
UCF Student's Lawyer Says Client Would Not Act on Comments
Kendra Parris, Velasquez's attorney, says her client was being punished for legally protected speech, arguing he had not done anything to suggest that he would act on his comments.
Parris says her client does not own a weapon and does not have a criminal background, claiming he would have voluntarily relinquished his gun rights if he was given the option. She also says an extension of the temporary ban would affect Velasquez's ability to obtain certain jobs and could expose him to criminal liabilities.
Velasquez's father was given back his gun and decided to sell it so that there are no firearms in his house, claims Parris.
"For a person with a history of bullying, I cannot tell you how horrifying this has been. He is afraid to leave his house," she continued.
Velasquez's family is considering pursuing civil action against the Orlando police, according to Parris.
The post Judge: UCF Student Who Idolized Mass Shooters Online Can Buy Guns appeared first on Campus Safety Magazine.