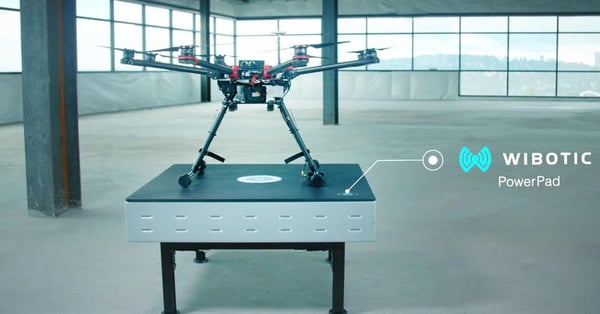 -Manufacturing & Cobot Roundup
-Waypoint's wireless charging
-Electrolux, Universal Robots, KUKA
-SenseTime, US$600m Series C
-And much more!
Manufacturing & cobot roundup
Robots should work in tandem with humans and other machines to improve task efficiency, according to Amazon Robotics' chief technologist. Asian Robotics Review goes further, declaring that cobots are "a must-have in every robot maker's product line, or else!"
NextShift Robotics unveiled their new collaborative robotics system for use in eCommerce warehouses and cellular manufacturing. The system is designed to help eCommerce distribution centers expedite order picking and fulfillment.

The European Commission's Business Innovation Observatory released a video about cobots…
Waypoint Robotics, a manufacturer of custom mobile robots for the supply chain industry, unveiled its EnZone Wireless Charging Dock, which, as the name suggests, enables wireless charging of robot systems. ZDNet says that this will be "game-changing" in robotics.
Caption: Waypoint's partner WiBotic developed the technology underlying the new system.
China's robotics and AI companies are growing at a rate many times faster than its competitors in other nations, according to ABI Research:
"The top four Chinese industrial robotics vendors reported a topline growth of 20% year-on-year in 2016 and a similar figure is expected for next few years. Their Japanese and European counterparts were either contracting or experiencing low single-digit growth in the same period. Two factors spurring their growth: China-based warehousing robot companies have been actively expanding their overseas operations and China's overall heavy push into 5G and AI," says Lian Jye Su, Principal Analyst at ABI Research.
Markets and politics are contributing to the rise of China's robotics firms, says Robotics & Automation News, in a piece about the same ABI report. Writing in Robohub, Frank Tobe asked "What's all the fuss about AI, robotics and China?"
York Exponential has been showing off its cobot systems, including one that can serve coffee…
Electrolux opened its first Electrolux Innovation Factory right beside an existing manufacturing facility in Italy. The firm plans to test solutions including 3-D printing and cobot integration on its production lines.
KUKA hosted the grand opening of its Metal & Arc TechCenter in Michigan, USA…
Meanwhile, robots are set to boost employment rather than destroy it, according to a new report from the Asian Development Bank; Industrial robot giant ABB wants to bring cobots to the South African market; and Cobots "are opening up new markets and applications for robotics," according to The Engineer.
Video of a panel discussion entitled "Are we ready to embrace robot coworkers?" from 2017's Collision Conference was released. The panel included Fetch Robotics' Melonee Wise, Softbank Robotics' Rodolphe Gelin, Savioke's Tessa Lau and, IEEE Spectrum's Evan Ackerman…
Anodica, a 50+ year old family business in Italy that manufactures premium and innovative handles, knobs and aluminium fittings, is using ABB's YuMi dual-arm cobot, to "boost productivity while at the same time improving workplace ergonomics"…

JVC Kenwood Indonesia "improved productivity and performance quality while reducing yearly operational costs by USD 80,000" thanks to a UR3 cobot from Universal Robots…
Piece-picking robots are at a tipping point, says Modern Materials Handling:
"Mobile robots might be an easier sell, but market forces, like the challenges finding enough reliable labor in a tight labor market, are creating conditions that are ripe for automated piece picking; and two, in the right application, piece picking robots are up to the task now."
Elsewhere…
Unmanned underwater vehicles maker Aquabotix is commercializing a system that enables a single operator to control multiple underwater robots. (H/T ZDNet)
The UK's Serious Fraud Office announced that it will be using an AI that can work 2,000 times faster than a human lawyer on all new casework. The agency hopes that the automatic document analysis system will enable it to "investigate more quickly, reduce costs and achieve a lower error rate" than is possible with human lawyers.
A prototype trash-collecting bot developed by Urban Rivers, is being tested on the Chicago River before making its maiden voyage later this year…
Dutch robotics firm, MX3D has 3-D printed a functional stainless steel bridge for pedestrians in Amsterdam's red light district…
China's AI startup SenseTime announced a US$600 million Series C investment round, bringing the company's valuation to more than US$4.5 billion.
Meanwhile, The Guardian explored some of the latest bio-inspired robots; European politicians and policy makers are debating whether or not robots should be granted personhood; and researchers at UEC in Tokyo are conducting research on robots that can acquire knowledge in a manner similar to human beings, enabling bots to understand their environment by structuring "their own sensory information in an unsupervised manner."
I'll be back next week with more news from the world of robotics. Until then…
Five vids for Friday
1. Cobot DJ Yumi displayed some fancy mixing and scratching skills in a collaboration with human DJ Yoda.
2. Artificial intelligence is creating three new types of jobs –"trainers," "explainers," and "sustainers"– according to Paul Daugherty at Big Think.
3. A team from the University of Nantes unveiled what is claimed to be the world's first fully 3-D printed house. The dwelling was completed in 18 days and people from the local council housing list are expected to move in shortly.
4. Engineers at Stanford are working on soft, vine-like, inflatable, plastic bots with high maneuverability, flexibility and the ability to get into spaces other robots cannot reach.
5. Researchers at the University of Michigan posted video of its Cassie Blue bot, tethered, enjoying a ride on a Segway. The video is just a teaser, apparently, for a forthcoming research demonstration.