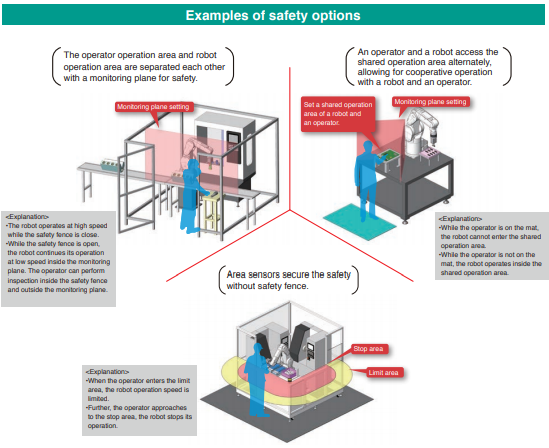 -Manufacturing & Cobot Roundup
-IKEA-assembling bot (w/Robotiq grippers!)
-Universal Robots, Mitsubishi Electric, BMW
-US Army soft bots
-NASA's Swarmathon
-And much more!
Manufacturing & cobot roundup
An autonomous robot designed by mechanical engineers in NTU Singapore captured the attention of global media this week by successfully mastering a familiar assembly challenge –putting IKEA furniture together. The new system can assemble an IKEA chair (sans manual) in less than 21 minutes, including motion planning and part location.
According to The Verge, assembling IKEA furniture should become "a new benchmark for robot dexterity." We'll have update on this story very soon, as Robotiq's 2-Finger adaptive grippers are a key component of the system!
PBS has more…
Mitsubishi Electric showcased its new MELFA collaborative robot, which is designed to "cooperate with humans in industrial plants, and work around them, boosting productivity and enhancing plant flexibility."
Caption: Mitsubishi Electric's MELFA cobot offers several safety features to enable human-robot collaboration.
To learn more about cobot safety, make sure to visit Robotiq's Resource Centre and check out our eBook "Collaborative Robots: Risk Assessment, An Introduction".
Robot workstations equipped with RightHand Robotics' supply chain automation technology successfully picked up and placed 131,072 items over the duration of this year's MODEX show. Along the way, the firm set a world record with potentially "monumental" implications, ZDNet reported:
Even if you don't care how many times a team of small industrial robots can pick up and put down various objects during a trade show, the results speak to broader trends in automation that amount to a veritable revolution in how global commerce functions.
In an interview with India's Financial Express, Jurgen Von Hollen, President of leading cobot maker Universal Robots, spoke about the potential for cobots to act as a "third arm for the workforce." Universal Robots has doubled cobot deployments every year for the last three years in India and currently has some 400 cobots at work in the country.
Business Insider took a peek behind the scenes at BMW's Spartanburg, South Carolina plant, which produces 1,400 vehicles a day. 500 robots and 450 employees collaborate on each SUV…
Engineers from the University of Tokyo have developed a robot that can identify, collect, and manipulate two-dimensional nanocrystals to create designer nanomaterials. The robot manufactured "the most complex van der Waals heterostructure produced to date, with much less human intervention than the manual operations previously used." Such a bot could prove very useful in advanced electronics applications.
Caption: Robot for assembly of designer nanomaterials. Credit: 2018 Satoru Masubuchi, University of Tokyo.
Bouygues Construction is using the EffiBot, an autonomous cobot developed by French firm Effidence…
Meanwhile, Xinhua reported that China's industrial output grew by 6.8 pct in Q1 and The New York Times reported that the rate of economic growth in Eastern Europe has led to severe labor shortages, so companies are "calling in the machines."
KUKA partner BACA Systems recently developed and installed two RS202 Robo SawJets based on the KUKA KR 210 robot…
According to the latest study by the Centre for European Economic Research Research, the rapid spread of industrial robots in Germany hasn't made a dent in employment figures as "new tasks have been created for the workforce alongside [those] once performed by machines."
A Universal Robots UR10 cobot suspended from a linear rail is an integral part of this smart cell. The system was designed to reduce inspection cycle times and provide consistency in 3D scanning from one operator to the next….
Kaufman Engineered Systems has developed a robotic palletizing system using a FANUC M-410i Series palletizing robot "to pick and palletize cases with a custom-designed spatula end of arm tool"….
Elsewhere…
The US Army Research Laboratory announced a joint research project with the University of Minnesota to design soft, squid-like, spineless robots for "covert maneuvering" in "highly congested and contested urban environments".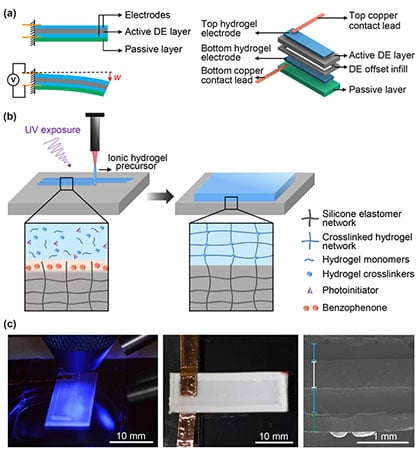 Caption: (a) Schematic of a soft actuator device (left) and exploded view of the device and constituent material layers (right). (b) Schematic of depositing (3D printing) hydrogel on the surface of a silicone layer after surface treatment and under UV light exposure. (c) Printing of the ionic hydrogel on the passive layer after surface treatment (left), final 3D printed DEA (middle), and microstructure image of the device cross-section (right). (U.S. Army illustration)
Small and medium sized businesses have been challenged to develop a 'lighter than air' robot that can remotely inspect internal roof fixtures at a decommissioned nuclear site in the UK.
Melanie Moses, creator of NASA's Swarmathon competition was interviewed about her work…
Driven by an aging population and rising demand for medical services, Japan's industrial robot makers are "looking to apply their high-precision control technologies in health care, with remotely operated medical equipment and robotic walkers that assist people with restricted mobility," Nikkei Asian Review reported.
University of Guelph researcher, Meagan King, is exploring how robotic milking systems can be used to detect early signs of illness in cows…
Finally, experts from Imperial College London explored ten "grand challenges for the future of robotics."
I'll be back next week with more robotics news. Until then…
Five vids for Friday
1. University of Houston researchers have created a prototype adaptive, soft robot that could be used in medicine, rescue and defense.
2. Researchers are using cameras strapped to dogs to train deep learning algorithms how to navigate the world like a dog (H/T IEEE Spectrum).
3. VC firm Playground is "betting big on robots". (H/T TechCrunch.)
4. Dr. Calum MacKellar, Director of Research of the Scottish Council on Human Bioethics, asked "Would it be ethical to create suffering robots?"
5. Patrick Anderson, a graduate student in the MED Lab at Vanderbilt University in the US is working on a multi-needle robot that could one day be used to perform lung surgery.