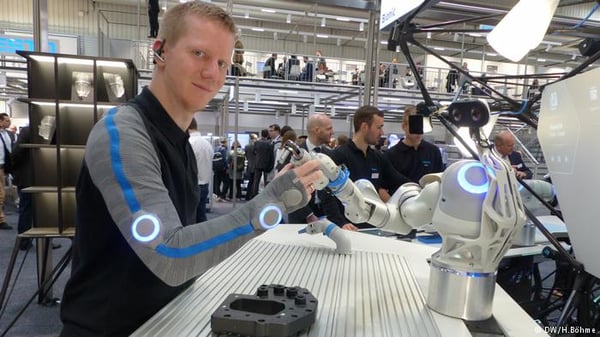 -Manufacturing & Cobot Roundup
-Teradyne acquires MiR
-Hannover Messe 2018
-Amazon building domestic robot?
-Human-robot collaboration in mid-air
-And much more!
Manufacturing & cobot roundup
Teradyne, Inc. announced the acquisition of privately held MiR of Odense, Denmark for US$148 million net of cash acquired plus US$124 million at the current exchange rate, if certain performance targets are met extending through 2020.
This cobot from Universal Robots was filmed feeding a laser marking machine…
Hannover Messe, one of the world's leading industrial fairs, comes to a close today after an exciting week.
Mexico's President Enrique Pena Nieto and German Chancellor Angela Merkel visited the KUKA booth…
Festo unveiled a "self-learning work-aid robot" that can be controlled via eye detection, voice control, remote control, VR glasses and sensors mounted on clothes.
Caption: Credit: Deutsche Welle.
Robotiq was there too!
Universal Robots showcased its mobile "Plug and Produce" solutions. Quanta Storage showed off its Techman cobot.
Robotiq's 2-finger adaptive gripper made an appearance at Indiana's Tech's first Technology Day.
Caption: Credit: Leandra Beabout | The Goshen News
Mobile Automation revealed "the first collaborative box erector in Australia"…
"Cobot engineers and businesses need to start thinking about how to create a more compatible relationship between human and mechanized workers," Manufacturing.Net reported. "Building collaborative hybrid cobot-human teams will be essential for manufacturers moving forward."
As workforces age in Japan and elsewhere, cobots "are seen as a key way to help keep all types of assembly lines moving without replacing humans." (Reuters)
Ekatech showed off its Robot Pallet Nailer RN4017 for pallet manufacturing…
The Telegraph's 30 minute "Technology Intelligence" podcast looked at "The Future of Work".
Cobots are "strengthening the production line" (CIO Review).
Researchers at the University of Stuttgart, Germany created this 'Collaborative Robotic Workbench.' The system is designed to augment the capabilities of "builders by giving them access to digital information and robotic control, facilitating a collaborative robotic building process"…

Forbes published this cool infographic…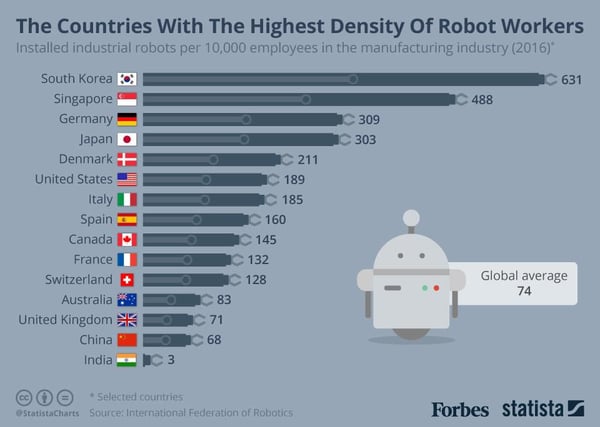 Caption: (Via Statista.)
Startup Tapster was profiled in American Inno. The firm makes robots that can be used to help quality control and testing of touchscreens…
ABB and the Economist launched the Automation Readiness Index, which provides a ranking for 25 countries based on their readiness for robotics and AI. According to the Index, South Korea, Germany and Singapore are the world's top-ranked nations "in their preparations for smoothly integrating intelligent automation into their economies."
Elsewhere…
According to numerous reports, online retail giant Amazon is working on a domestic service robot under the codename, "Vesta." with device trials starting employee homes later this year. Amazon reportedly has plans to launch Vesta to consumers as soon as 2019.
Meanwhile, Direxion, a US$13.6 billion money manager, launched 'UBOT' –a three-times leveraged ETF focused on robotics and AI.
South Korean food-tech firm Woowa Brothers has invested US$2 million into US robotics startup Bear Robotics.
Chinese real estate website Juwai.com has partnered with Macau-based service robot company Singou Technology to create a robot designed to sell Australian real estate to Chinese buyers.
Angelique Taylor, a PhD student in the Healthcare Robotics Lab at UC San Diego, spoke about her research into human-robot interaction. Taylor is particularly interested in helping robots understand the physical and social dynamics of groups of people in social environments…
"Robots that can weld, lift and bolt are being developed to help bridge labor shortages at Japanese construction sites, though their use will be limited to night shifts when no human workers will be nearby due to safety and regulatory concerns," ABC news reported.
The cleanup job at Fukushima will take decades and is "no job for humans," Vince Beiser wrote in a fascinating long feature for Wired.
Roboticists from the University of Tokyo and Kyushu Institute of Technology have developed an autonomous maritime robot that can detect and collect samples of seafloor life. (Japan Times)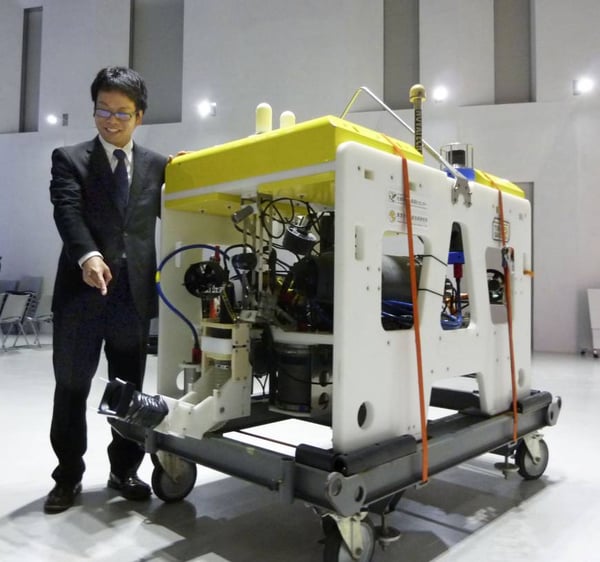 Caption: The robot was shown to the media in Tokyo on Tuesday. | KYODO
Canada's first room service robot started work…
I'll be back next week with more robotics news. Until then…
Five vids for Friday
1. Engineers and marine biologists at the University of California have created a virtually transparent, foot-long, eel-like robot that can swim silently in salt water using artificial muscles filled with water to propel itself.
2. Cassie, the bipedal bot developed by Jessy Grizzle's Lab at the University of Michigan spent some time walking through a ring of fire. Shamanic ritual or safety test? Nobody knows.
3. Angelica Lim, Assistant Professor of Professional Practice in Computing Science at Canada's Simon Fraser University spoke about "Building Robots with emotional intelligence" at the Rutgers Center for Cognitive Science.
4. Adrian Cartland, сreator of Ailira (Artificially Intelligent Legal Information Research Assistant) spoke about robot citizenship and shared his insights about AI legal status as well as "robot citizenship, its implications, and how governments could deal with it."
5. Schiebel and Airbus Helicopters demonstrated some human-robot collaboration in mid-air when they showcased "Manned-Unmanned Teaming" between Schiebel's S-100 Unmanned Aerial System and Airbus' manned H145…