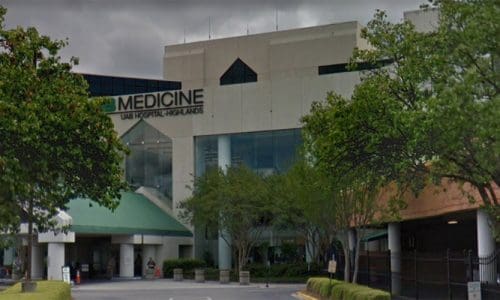 Mount Sinai Hospital was placed on lockdown for several hours Saturday after two women were shot while waiting outside, raising security concerns for the Chicago hospital.
At approximately 8 p.m. Saturday, two 35-year-old women were shot in a drive-by shooting as they waited with a group to visit a 25-year old male relative who had been shot earlier that day, reports York Dispatch. Both women were treated at Mount Sinai for gunshot wounds to the lower body.
Amanda Morris, an aunt of the male relative, says the group gathered outside the trauma center after hospital staff would not let them in the emergency room.
As they were waiting, a dark-colored vehicle with three people inside began shooting at the group, according to police. Morris says the vehicle occupants were wearing masks and did not say anything before opening fire.
"We are investigating whether the group was targeted due to their relation to the victim," said Chicago police spokesman Anthony Guglielmi.
One female victim is the male victim's sister; the other is a cousin. No arrests have been made in either shooting.
The 25-year-old male victim was riding his bicycle when he was shot at by someone in a black sedan. The man died from his injuries Monday afternoon, according to The Chicago Tribune. His name has not been released.
Mount Sinai, which is located in the city's Douglas Park neighborhood, has had issues with disruptions outside the hospital when shooting victims arrive from the West Side, according to police reports.
One law enforcement source says emotional and disruptive crowds forcing their way into the emergency room is a "real problem".
"It's miserable for the hospital," the source said, "But they (crowds) don't seem to care."
Mount Sinai Hospital Built "Safe Zone" to Protect Patients, Visitors
In March, the hospital built a fenced area outside the emergency room to create a "safe zone", which allows the security team to ensure proper screenings and "protect both patients and caregivers," said hospital spokesman Dan Regan.
The "safe zone" was created in consultation with the Chicago Police Department and is similar to a vestibule. It is staffed by hospital guards and bookended by doors that lock.
The main lobby and waiting area were open at the time of the drive-by shooting and those waiting outside the emergency department had been invited into those areas, added Regan.
Mount Sinai visitor guidelines for trauma patients allow only immediate family members to visit in patient rooms or the emergency department. Extended family is allowed to stay in the main waiting area.
The hospital remained on lockdown until midnight Sunday as a precautionary measure to prohibit visitors from going inside.
In a separate incident Monday afternoon, the hospital was placed on lockdown again following a disturbance inside the main lobby involving 40 people, reports ABC 7. Chicago police were called to the scene to disperse the crowd. No injuries were reported.
Last week, Chicago saw its most violent period so far this year after 85 people were shot, nine fatally, within a seven-day period.
The post 2 Women Shot Outside Mount Sinai Hospital While Visiting Gunshot Victim appeared first on Campus Safety Magazine.