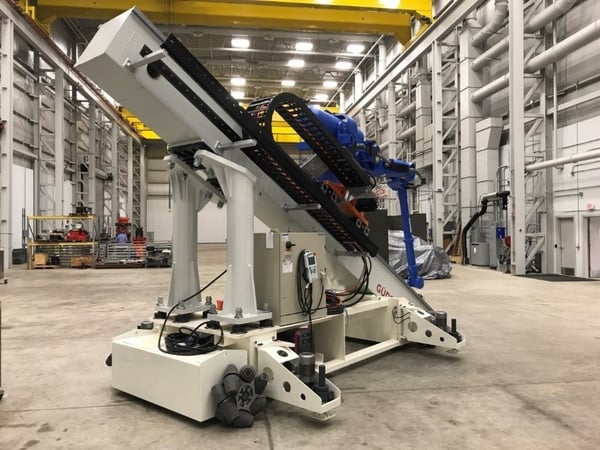 -Manufacturing & Cobot Roundup
-A5 Robotic System for Aerospace Manu.
-Universal Robots, AUBO, YuMi, Sawyer
-Jumping Spiders, ACHIRES, Atlas Elektronik
-Google AI Chatbot Gets Too Real!
-And much more!
Manufacturing & cobot roundup
The Manufacturing Technologies Division at the Air Force Research Laboratory, held a recent successful demonstration of the advanced capabilities of the 22,000 pound Advanced Automation for Agile Aerospace Applications (A5) Robotic System –"the first multi-purpose robot designed for use on the aerospace factory floor capable of using real-time sensor feedback to conduct work in a localized environment."
Caption: "[The] A5 robot is anticipated to cut depot maintenance times for aircraft coating removal up to 50 percent, saving time and money over the lifecycle of an a platform."
Rethink Robotics introduced some new features for its "Sawyer" cobot, including a software update for data visualization and ClickSmart technology for changing end-effectors.
"Collaborative robotics are proving that the future has arrived, and it isn't the stuff of dystopian sci-fi," says Inc. Magazine.
Australian manufacturer Lightning Protection International is using a YuMi cobot from ABB to meet increased demand…
Cobots from Universal Robots were spotted cheerleading for an Indian cricket team.
The Visumatic "VCM-3X.2 cobot fastener feed and drive end effector package" brings "advanced capability to collaborative workspace projects"…
The combination of augmented reality and cobots can lead to "interesting applications and further enhance robot and human interaction." (Electronic Design.)
Check out this the Takamaza J-Wave working with a cobot arm…
The Engineer took a fascinating look behind the scenes at the 240,000 sq ft Ocado facility in Andover which can handle the picking of 3.5 million items and fulfill up to 65,000 grocery orders per week:

Caption: "The company is involved in an ongoing project to introduce robots to picking stations that are normally manned by human employees and to this end a cobot is proving its worth in Andover by using its end effector to manipulate items packaged with flat surfaces." Via The Engineer.)
1,686 robotics companies were established in China last year, according to a report released at the ongoing 5th China Robot Summit. Xinhua reports: "By the end of 2017, the number of robotics companies in China exceeded more than 6,500, mainly located in China's Beijing-Tianjin-Hebei region, the Yangtze River Delta and the Pearl River Delta."
One of AUBO's cobots was spotted helping out with some painting tasks…
The growth in cobots today is comparable to the growth of the robotics industry overall in the 1970s according to a trade show visitor quoted in in Quality Magazine.
Human-robot interaction is key to "unlocking the potential of service robotics"…
A survey of over 2,000 UK workers conducted by Industrial Vision Systems (IVS), a supplier of machine vision solutions to industry, found that "just 16 per cent of workers in the South of England cities Brighton and Southampton would feel threatened that a robot would take their job if they had one assisting them at work. However, this number increases to 30 per cent for cities such as Sheffield and Liverpool and 27 per cent for workers in Leeds." (London Loves Business.)
This TM5 cobot from Techman cooked up some fries…

Elsewhere…
Google revealed a "human-sounding" AI-POWERED chatbot so realistic that USA Today asked "Should Google let businesses know their human-sounding robot is calling?" and Canadian Manufacturing pondered the question "What happens when robots sound too much like humans?"
In fact, as public questions and media pressure grew, by the end of the week, Google had announced that the firm will "let people know [when] a robot is calling them on the phone."
The U.K.'s Royal Navy debuted an autonomous robot minesweeper built by Atlas Elektronik…
Kang Chang-kwon, a Korean researcher at the University of Alabama is working on Marsbee –a project to build a swarm of small robotic bees "with cicada-like wings and sensors that can capture data about the red planet's atmosphere and geology." (Korea Joon Gang.)
Boston Dynamics has been winning the Internet again with two new videos showing its Atlas and SpotMini bots in action. Here, Atlas can be seen "learning how to run outside and navigate autonomously"…
And here, SpotMini navigates a staircase autonomously, using maps developed through human-robot collaboration…
Drive.ai launched a robot car pilot in Texas with a focus on humans. Via IEEE Spectrum: "By keeping humans in the loop and incorporating a new visual signaling system, Drive.ai's self-driving car service aims to be both friendly and effective."
Japanese researchers released video of their bipedal ACHIRES bot in action…

And the Wall Street Journal looked at some of the bots that are used to milk cows…
I'll be back next week with more robotics news. Until then…
Five vids for Friday
1. Researchers from the University of Manchester (UK) have been training a spider to jump on demand in order to improve robot design. (Nature)
2. The 'Lego Breakfast Machine' has been cooking up some bacon and eggs.
3. This automated barista could be the future of coffee shops. (CNBC)
4. Terry Fong, the head of NASA's Intelligent Robotics division spoke about how research in space is "paving the way for our future with robots on earth" at the recent Collision Conference.
5. Researchers in Finland have developed an imaging method for measuring human touch. (University of Helsinki)