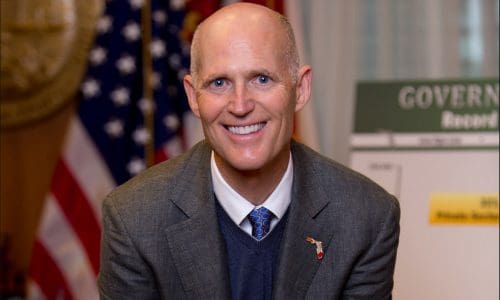 Two parents whose teenage daughters were killed in the Marjory Stoneman Douglas High School shooting will be running for seats on the Broward County School Board.
Lori Aldaheff, the mother of 14-year-old Alyssa Aldaheff, and Ryan Petty, the father of 14-year-old Alaina Petty, filed papers to run at the Broward County Elections Office on Tuesday, reports CBS News. Alhadeff will run for District 4 and Petty filed for candidacy for the at-large seat in District 8.
"I don't want Alyssa's life to be in vain. I'm doing this because I don't want another parent to go through the pain and anguish that I have to go through every day," Alhadeff said of her decision to run. "I don't want any child to have to say to their mom, 'Mommy, am I going to die today if I go to school?' It is my job. It is my duty to make sure these schools are safe. And the only way I'm going to do that is if I get on the school board to make those decisions and make those changes."
Alhadeff added she hopes to make the Broward School system "a model that other districts will look and try to replicate."
Both plan to center their races around school safety and say their work thus far on changing Florida gun laws is a good start.
The new law, called the Marjory Stoneman Douglas High School Public Safety Act, prohibits people under the age of 21 from purchasing guns. Firearm dealers are also forbidden from selling or transferring any guns to people under 21 and a three-day wait period for all firearms sales has been implemented.
Additionally, new "Risk Protection Orders" allow courts to prohibit violent or mentally ill people from purchasing or possessing guns. Police will also be able to petition courts to order people to immediately surrender their guns if those people pose a danger to themselves or others.
"The laws that we passed in Florida have been used over 130 times to keep firearms away from those who would hurt themselves and others," said Petty, "That's why I'm filing to run for school board." Petty lobbied with Governor Rick Scott to pass the safety act.
Pushes for Transparency, Accountability to Be Large Part of Parents' Campaigns
Both parents say increased transparency and accountability will also be at the center of their campaigns.
"I asked our elected leaders several pointed questions at the CNN town hall the week after my daughter was murdered," recalled Alhadeff. "I'm still not satisfied with the answers to the questions I asked back then."
Alhadeff and Petty also both plan to focus their campaigns around discipline programs within Broward County Schools, according to ABC News. Petty described the current system as a "confusing matrix of discipline programs" that allows students like the gunman – who had a plethora of disciplinary problems during his time in Broward County schools – to fall through the cracks.
Both parents have criticized Broward superintendent Robert Runcie's signature discipline program PROMISE, designed to give nonviolent students a second chance. The gunman was assigned to the controversial program.
Alhadeff attended a public meeting regarding the program and described it as "confusing" and "not very specific".
"The only thing I understood is the reason for the PROMISE program was to give kids second chances and also to help fight the 'school to prison pipeline.' But besides that, they were not very clear in explaining how the PROMISE program worked," she said.
Alhadeff said discipline programs in the district have "gone from the complete extremes – from over-disciplining kids to not disciplining kids, which we have now." Discipline policies must be "revamped" and to "meet somewhere in the middle," she added.
Alhadeff also says schools can implement some basic changes to improve safety.
"You need bulletproof doors and bulletproof glass in the classroom. This would have saved Alissa's life. The shooter shot through the glass. He never actually entered the classroom," she said.
Access to "stop-the-bleed" kits and classrooms with clearly marked safe zones outside the line of fire of a potential shooter are simple but important, says Alhadeff.
Petty and two other Parkland dads are also sitting on a special statewide fact-finding commission investigating the multiple failures before and during the shooting, reports Politico.
"If I don't get in there and change it, it's unlikely to change," Petty said. "And we'll end up continuing the same approach that clearly failed at Marjory Stoneman Douglas. If I don't stand up and let other parents understand the risks and threats that are in our schools, I miss an opportunity to honor the memory of my daughter and the memory of the other victims."
Petty and Alhadeff's campaigns are aligned with a new political committee, Broward Parents for Better and Safer Schools, which is being handled by Democratic consultants Eric Johnson and Sean Phillippi.
The post Parents of 2 Parkland Shooting Victims to Run for Broward School Board appeared first on Campus Safety Magazine.