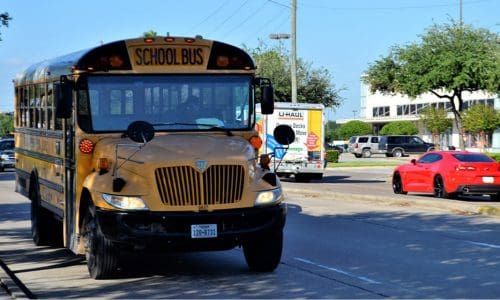 A student and an adult chaperone were killed and 45 others were injured after a school bus collided with a dump truck on a New Jersey highway Thursday morning.
The school bus, which was transporting students from East Brook Middle School in Paramus, could be seen on the median of Interstate 80 in Mount Olive with the front ripped off, reports AP News. The bus was also detached from its chassis and a piece of the front end, with the steering wheel visible, was laying on top of the metal barrier separating the highway from the median.
A red dump truck with a crushed front end was parked nearby along the highway.
"There's an incredible emergency response from throughout Morris County and by state police. It's a horrific scene," said Mount Olive Mayor Rob Greenbaum.
Greenbaum said he received an emergency response notification that people were possibly ejected in the crash, though he couldn't say from which vehicles.
State police said an unknown number of children were on the bus.
At least two canine units were searching the woods along the side of the highway Thursday afternoon but it is not yet clear why.
At least two patients were taken to St. Joseph's Regional Medical Center in Paterson. Two others were taken to Hackettstown Medical Center and are believed to be children, officials said.
A spokeswoman for Morristown Medical Center also said they received patients from the accident and about ten victims were taken to St. Clare's Dover Hospital and St. Clare's Denville Hospital, according to Communications Director Patty Montgomery.
Two nurses heading to their shift at Morristown stopped at the scene to perform CPR on a young girl, reports North Jersey.
Jay Faltings, who drove past the scene approximately five minutes after the crash, told HLN he saw children being rescued from the wreckage, according to CNN.
"They were young kids," he said. "But luckily, first responders, everybody there helped get all the kids out safely from what we could see. The kids were obviously freaked out."
The bus was among a group of three transporting students to Waterloo Village, a history site about five miles from the scene of the crash, for a fifth-grade class trip. The two other buses not involved in the crash returned to the school. A school district official said its superintendent was preparing a statement.
A sign posted outside the school informed people to go to the auditorium for updates on the accident.
The National Transportation Safety Board is gathering information on the crash, a spokesman said. The New Jersey State Department of Health's disaster team was on the scene to assist with family reunification and counseling.
More information will be provided as it becomes available.
The post 2 Dead, 45 Hurt After N.J. School Bus Collides with Dump Truck appeared first on Campus Safety Magazine.