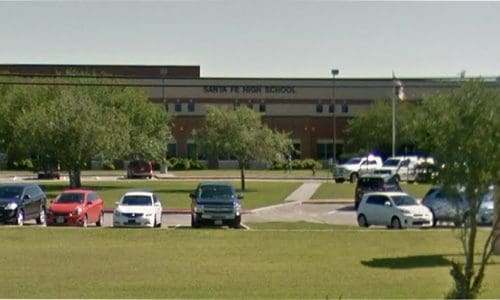 Police responding to shots fired inside Santa Fe High School Friday morning engaged in gunfire and negotiations with the gunman for approximately 25 minutes before his eventual surrender.
Galveston County Sheriff Henry Trochesset said Monday that two police officers, including a school resource officer, arrived at the school's art lab four minutes after the shooting started and began exchanging gunfire with the gunman, reports NBC News. Two sheriff's deputies arrived not long after and also began engaging with the gunman, along with attempts to convince him to surrender during lulls in gunfire.
"There were minimal shots fired, at least from us, from law enforcement," said Trochesset. "But the individual was still trying to shoot us."
Officials have not released 911 tapes but in emergency dispatch recordings from Galveston County, captured by Broadcastify.com, a female voice can be heard saying "more shots fired" about 10 minutes after authorities first received reports of gunfire. Five minutes later, a male voice says the suspect is "possibly going to be barricaded."
"He's actively shooting. He's in the art room. We've got, we've got shots fired right now. We need you all up here," another male voice says at about 15 minutes after the shooting began.
Trochesset revealed that a single negotiator talked to the gunman.
"And it continued until that subject was placed into custody," said Trochesset. "We're lucky the body count's not higher."
Ten others were wounded during the encounter, including Police Officer John Barnes, a Santa Fe school resource officer. He remains in critical condition and in intensive care. The gunman was not hit in the gunfire with police.
Trochesset credits the responding officers from keeping the gunman from going to other classrooms, allowing the rest of the school to evacuate, according to NBC DFW. Approximately 200 officers from law enforcement agencies throughout the region responded to the 1,400-student school.
"When people were running from the gunfire, the officers that were continuing to arrive were going to it, and every door they opened, they weren't sure what was on the other side of it, but they opened those doors continuously, time after time, until that school was cleared," Trochesset said. "That's what you call a hero. They didn't run from it, they ran to it."
Some of the Victims May Have Been Caught in Crossfire Between Police, Gunman
Trochesset also said Monday that some of the ten people killed may have been caught in the crossfire but that he does not believe any of the victims were killed by law enforcement officers.
Theories that some of the victims may have been killed by police bullets came after the gunman said he spared students he liked "so he could have his story told."
Trochesset added he doesn't think any additional students were shot after officers confronted the shooter but can't say for sure until autopsies are completed. A "decent amount of cameras in the school" will help investigators piece together a timeline, he said.
Galveston County Judge Mark Henry said investigators are still working on the timeline and cautioned that emergency dispatch traffic doesn't always reflect real time.
Police have also confirmed that the explosive devices the gunman scattered through the school and across the campus were cricket bombs, which are made by filling spent carbon dioxide cartridges with gunpowder and adding a fuse. Similar devices were created by the two gunmen in the 1999 Columbine High School shooting.
The gunman is currently on suicide watch at the Galveston County Jail after he told police he intended to kill himself after the shooting but that he "didn't have the courage."
The post Police Engaged with Santa Fe Gunman for 25 Minutes Before Surrender appeared first on Campus Safety Magazine.