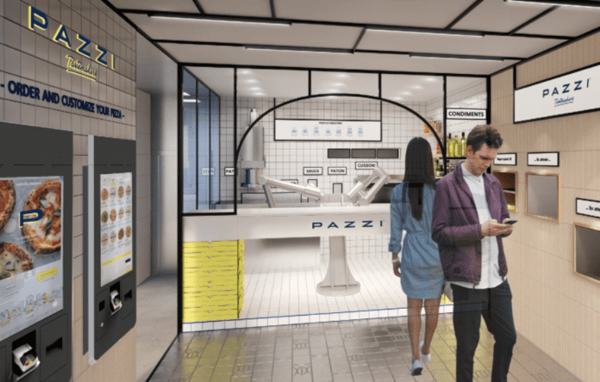 Manufacturing & cobot roundup
Esben Østergaard wins Engelberger Robotics Award!
Cobots @ ICRA 2018
Meet Disney's Stickman
Enter the Microhouse
And much more!
Manufacturing & cobot roundup
Esben Østergaard, Co-founder and CTO of leading cobot maker Universal Robots, has received this year's Engelberger Robotics Award. Dubbed "the Nobel Prize for robotics," the Engelberger Robotics Award is the automation industry's most prestigious honor.
Jeff Burnstein, President of the Robotic Industries Association, commented:
"[Østergaard's] work in the field of collaborative robot applications has allowed robots to enter previously unthinkable sectors in just about every industry. Esben Østergaard's emphasis on robots that work side-by-side with people and are easy to use has created enormous interest among many small and medium sized companies who never even considered robots before. In a world that is increasingly characterized by people and robots working together, Esben's pioneering technology advances play a pivotal role."
Østergaard's win also demonstrates the massive strides cobots have made in the few short years since the first human-robot teams started appearing in manufacturing facilities.
In a 2017 lecture, "What does collaborative robot mean?," Østergaard shared elements of his vision for human-robot collaboration. It's worth checking out…
Universal Robots is collaborating with German banknote processor G+D on a project to bring cobots to the Indian banking sector. G+D estimates that Universal Robots' cobots can process 30,000 banknotes per hour (H/T Financial Express).

Grant Imahara, of Mythbusters fame, traveled to Germany to spend time with KUKA's LBR iiwa cobot…
Meanwhile, a new report predicts the global cobot market will grow at a CAGR of +56% during the period 2018-2025, Plus One Robotics exited stealth mode, and ABB announced that it's setting up a new robotics center in Southwest China.
NVIDIA researchers have created a neural network-based system that can instruct a cobot on how to complete a task by observing the actions of a human. The system was tested in the real world on a pick-and-place problem of stacking colored cubes…
Recent UK research has shown that "static graphical signage" improves performance and reduces anxiety in participants who are physically collaborating with a semi-autonomous robot. Jonathan Aitken, research fellow at the Department of Automatic Control and Systems Engineering, University of Sheffield, UK, writes about the research in a fascinating piece for The Statesman:
"Whilst increasingly sophisticated technical solutions are being sought to improve communication and confidence in human-robot co-working, our findings demonstrate how simple signage can still be used as an effective tool to reduce user anxiety and increase task performance."
IBM showcased some of the ways in which its Watson AI system is creating "a paradigm shift in quality management and maintenance processes"…
ICRA 2018 took place in Brisbane, Australia, and there have been cobot-related projects and presentations galore. (Stay tuned to the official ICRA 2018 YouTube channel, as more videos are sure to be uploaded over the next few days – to add the 900+ videos already available.)
What follows is just a taste of the exciting cobot research on display.
Researchers showcased a "Human-Aware Robotic Assistant for Collaborative Assembly" that integrates "Human Motion Prediction"…
Researchers from the Knowledge Technology Group, University of Hamburg presented a novel architecture for safe human-robot collaboration "in a shared tabletop workspace based on intuitive multimodal language and gesture instructions and behavior recognition"…
KUKA presented two human-robot collaboration applications at the event: human-robot ultrasound, and a tic-tac-toe game between human and bot.
A new "safety- and energy-aware impedance controller" for cobots is under development…
In the world beyond ICRA, pizza bots are arriving in Europe, with The Spoon reporting that French startup EKIM raised USD$2.6 million to fund the creation of PAZZI, a small, fully-autonomous pizza-making robot restaurant.
European pizza-making could be set for a robotic makeover.
(Image: EU-Startups.)
Cox Container, a custom blow molded plastics manufacturer, is using Sawyer cobots to address challenges associated with labor shortages and offer better jobs to workers.
A Norwegian fish farm is using a pair of ABB IRB 360 Flexpicker robots to help automate its slaughterhouse. Imaging & Machine Vision Europe reports that a conveyor carries sedated salmon to the robots, at which point the salmon are quickly killed via needles inserted in the head. The system can process 4,800 per hour.
DHL is evaluating collaborative piece picking for "small-batch, high-variability orders." Robotics Business Review spoke with Adrian Kumar, vice president of solutions design North America at DHL Supply Chain, about the initiative.
Elsewhere…
A French nanorobotics team has built the "smallest microhouse in the world" using a new microrobotics system dubbed "μRobotex."
Assembled on the facet of an optical fiber via origami, the microhouse is so tiny, the researchers say even a mite would be too large to gain entry. I like a clean house, so I approve of this development in architectural design. (You can find the researcher's paper here.)
Microhouse on the Prairie? The tiled roof demonstrates the ion gun's ability to focus on a 300-by-300-micrometer area.
(Image: FEMTO-ST Institute.)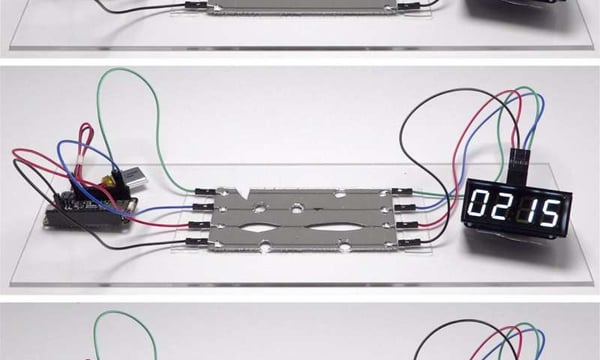 In new research from Carnegie Mellon, a digital clock keeps time while damaged circuits heal themselves. The development could have a major impact on bio-inspired robotics.
(Image: Nature Materials.)
Meanwhile, IEEE Spectrum explained "Why a Robot Can't Yet Outjump a Flea," PhysOrg described a self-healing material developed at Carnegie Mellon that could prove to be a breakthrough for bio-inspired robotics (see image above), and Robohub reported on a wind-powered, albatross-inspired robot designed for ocean monitoring applications…
Finally, MIT Technology Review reported that weed-killing robots are proving so effective at removing weeds without the use of herbicide that the technology is threatening the business models of global chemical companies.
I'll be back next week with more robotics news! Until then…
Five vids for Friday
1. Roboticists at Disney were all over the media this week following the release of stunning video showing the headless, 2 DoF acrobat robot "Stickman" in action.
2. Informatician Dr. Jan Van den Bergh delivered a TEDx Talk about how workers can exploit the benefits of robotics.
3. National Geographic profiled the work of Andy Cavatorta, who combines emerging technologies (including robotics) with traditional crafts to create new sounds and meanings.
4. Researchers from MIT's Computer Science and Artificial Intelligence Laboratory (CSAIL) have developed a fleet of autonomous boats that can be 3D printed using low-cost hardware and materials, and could serve as models for future "self-assembling, driverless water taxis."
5. The German Research Center for Artificial Intelligence released a new video of its TransFIT project. TransFit aims to develop systems for assembly and installation of space infrastructure by humans and robots "either autonomously or in cooperation."