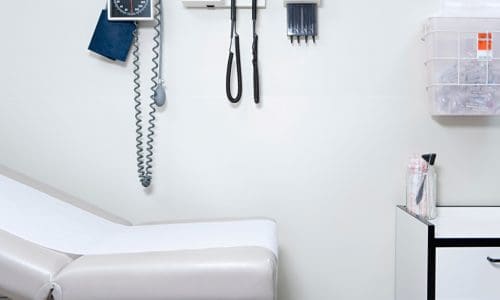 Former patients of a disgraced neurologist facing rape charges in New York and New Jersey claim Philadelphia law enforcement officials are ignoring additional and identical accusations against the doctor.
Authorities in Philadelphia have not pursued a felony case against Dr. Ricardo Cruciani, even though many patients living in the Pennsylvania city have accused the doctor of sexual misconduct, reports ABC News.
Cruciani was arrested back in February in New York on 30 criminal counts, including multiple counts of rape, while he worked at Mount Sinai Beth Israel Hospital in Manhattan. He pleaded not guilty and was released after posting $1 million bail.
Hillary Tullin, a former patient of Cruciani's, called a sexual abuse hotline last year and reported that the neurologist had abused her between 2005 and 2012, according to ABC 7. She testified before a grand jury in February.
"I don't know that he's going to go gently into the good night, but I'm very hopeful," she said. "He needs to be locked up."
Last November, The Associated Press reported at least 17 women in Pennsylvania, New York and New Jersey had stepped forward to accuse Cruciani of sexual misconduct dating back at least a dozen years.
Several women, including Tullin, told the AP that they felt they had no choice but to continue seeing Cruciani as he specialized in rare and complicated syndromes that cause unrelenting pain.
Tullin said Cruciani was one of the very few doctors who could treat her unique condition.
Additional accusers said Cruciani used his specialized medical knowledge to trap them in long-term doctor-patient relationships and took advantage of their desperation.
Some claim the doctor penetrated them with his fingers and forced them to have intercourse and perform oral sex.
Alleged Victims Voice Disappointment in Philly Police, Prosecutors
Tullin praised New York City and New Jersey police and prosecutors but voiced her disappointment in Philadelphia officials, along with many other alleged victims.
"They're just turning a blind eye. That's what's so egregious and utterly disgusting," said Tullin. "That's why people don't come forward, because they don't believe they'll get justice or that anything will happen."
Philadelphia police and prosecutors have defended their handling of the investigation, pointing to the fact that Cruciani pleaded guilty in 2016 to assaulting seven patients while he was chairman of the neurology department at Drexel University, located in Philadelphia.
Under a plea agreement, Cruciani was sentenced to seven years' probation, had to forfeit his medical license and also had to register as a sex offender.
City officials acknowledge Cruciani's latest accusers are angry but claim some of their cases are too weak to prosecute while others are still being investigated.
Tanisha Johnson, one of six patients interviewed by the AP about their experience with Philadelphia police, said she unsuccessfully called multiple times to schedule an interview. In March, she had a conversation with a supervisor in the special victims unit that she described as distressing.
"What he said to me was, 'The case in Philadelphia has already been dealt with. I suggest you contact New York and New Jersey.' My response was, 'You want me to contact New York and New Jersey about a crime that took place in Philadelphia?' I was offended by that," Johnson recalled.
Johnson said she eventually gave a statement but only after she traveled from New York City to Philadelphia and showed up unannounced at the District Attorney's office.
Tullin voiced outrage with the DA's office as well, claiming they declined her case and that a prosecutor cherry-picked two statements in a police interview to imply she had consented to sex acts with the doctor.
"It was the very first interview I ever did. I didn't have an advocate, I had never talked about this with anybody, I hadn't seen a trauma counselor. You're saying things that sometimes don't make sense," Tullin said. "And what I was saying was taken out of context."
New York and New Jersey police both charged Cruciani based on Tullin's account.
A 55-year-old woman who alleges the doctor abused her for years said she gave a statement to Philadelphia police in late 2017 but has heard nothing since.
"There was already so much misery and shame going on, and to have to go through all this is just ridiculous," the woman said. "Did they not take me seriously? Were they trying to cover it up? All these things go through your head when you're ignored. I was so ignored."
The woman added that police in New York and New Jersey responded immediately and communicated with her each step of the way. Cruciani was also charged based on her account.
Dave Zuckerman, a former prosecutor not associated with the case, said he is puzzled by Philadelphia's handling of the allegations.
"I would find it surprising, regardless of whether he was charged in another jurisdiction, that if they have multiple, overlapping, credible victims who want to see this man prosecuted, that charges wouldn't be filed," he said. "To me, that is not customary."
The post Patients: Philly Police Ignored Sex Abuse Claims Against Former Doctor appeared first on Campus Safety Magazine.