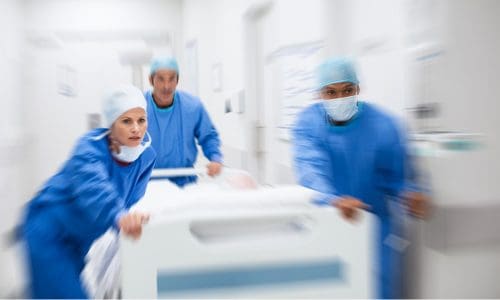 Two police officers who were placed on administrative leave in December following a shooting at a Bakersfield, Calif., hospital have been cleared.
An investigation by the Bakersfield Police Department's Critical Incident Review Board determined all shots fired by Office Felipe Juarez and Officer James Montgomery last December at Bakersfield Heart Hospital were within department policy and legal requirements, reports ABC. Both officers have returned to full duty.
The hospital was placed on lockdown on Dec. 1 after 44-year-old Brandon Clark shot through a door with a rifle and pushed through the broken glass to enter the hospital.
Clark walked the halls for three minutes and pointed his rifle at several employees but did not shoot. He then exited through the same doors he entered. Witnesses said Clark told people he was not there to shoot them.
The two officers confronted Clark in an employee parking lot and fired a total of six rounds before taking him into custody.
Clark was treated at the hospital for approximately three minutes before being transported to Kern Medical.
Clark repeatedly said during the incident that he was looking for his mother who is a nurse at the hospital. Investigators do not believe he intended to harm her but also said he went to her home and fired a single shot before heading to the hospital, according to Bakersfield.com.
Clark's stepfather told investigators his stepson has a history of drug use and was likely under the influence of methamphetamine.
Hospital CEO Michelle Oxford said her staff for responding "perfectly" to the incident. A housekeeper and a security guard spoke to Clark in the parking lot and noticed a gun hanging from his side.
The housekeeper immediately informed Oxford who issued a code silver. The hospital had been in lockdown for ten minutes before Clark shot through the door.
Clark is still in the hospital and is scheduled to appear in court on July 10 pending a psychiatric evaluation.
The post Officers Cleared in Bakersfield Heart Hospital Shooting appeared first on Campus Safety Magazine.