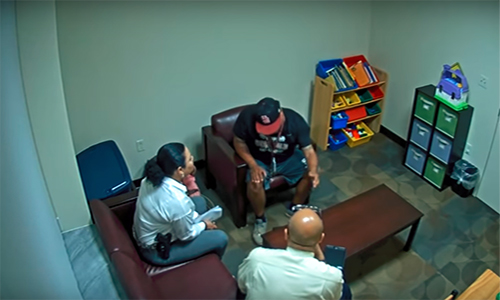 Two coaches who served as campus security monitors at Marjory Stoneman Douglas High School and were criticized for their inaction during the shooting have been fired.
Assistant baseball coaches Andrew Medina and David Taylor were reassigned earlier this month, but Superintendent Robert Runcie announced Tuesday that the two no longer have jobs with the district as of Sunday, reports The Sun-Sentinel.
Medina, who was not armed, was unlocking gates around campus when he saw the gunman. He told detectives that while he couldn't remember the student's name, he remembered that he was trouble and referred to him as "crazy boy".
Instead of confronting the would-be gunman, Medina radioed to Taylor that the suspicious student ran into the building with a backpack and a duffel bag. Taylor saw the gunman go into a stairwell and hid in a closet when he heard gunfire.
Medina said he did not issue a Code Red, which would have signaled a threat inside the building and kept students behind locked doors, because he had been trained not to set off a law enforcement response unless he saw a gun or heard gunshots.
Russell Williams, the lawyer representing both coaches, said his clients "did do what they are trained to do" the day of the shooting, reports ABC News.
"Everybody feels better that somebody is now being held accountable — the only people they are going to hold accountable is the low hanging fruit," he added.
Security Monitor Accused of Sexual Harassment by 2 Students in 2017
Criticism of Medina's response during the shooting isn't the first time his behavior has been called into question.
In February 2017, Medina was accused of sexual harassment by two 17-year-old students. One of the accusers was Meadow Pollock, who was among the 17 killed during the massacre.
A district investigation determined Medina asked out one female student and whispered inappropriate comments to the other regarding her appearance. He also offered to take one of the students out for drinks, according to investigators.
"Both students became so uncomfortable with Mr. Medina's comments and actions, they sought out different routes to their classes in an attempt to avoid him," said a report prepared by Robert Spence, a detective with the district's Special Investigative Unit.
Medina has denied all claims and said he only made positive comments to the students.
A discipline committee consisting of district employees unanimously recommended that Medina be fired. Their recommendation was overridden by Human Resources Chief Craig Nichols who chose to issue a three-day suspension instead.
"After consultation and advice from Special Investigative Unit leadership and district legal counsel, the appropriate discipline was determined to be a three-day suspension," read a statement from Nichols. "This decision was primarily based on the facts that there was no direct evidence to distinguish between the conflicting statements provided by the students and the employee, there was no inappropriate physical contact, and there was no record of any previous discipline for the employee."
The post Stoneman Douglas Security Monitors Fired for Response to Shooting appeared first on Campus Safety Magazine.