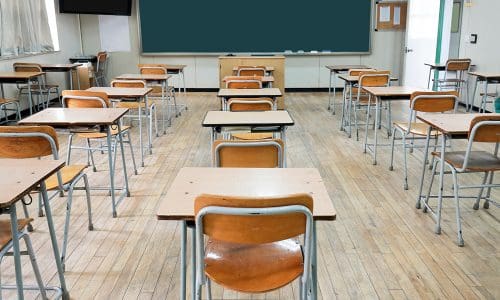 A new poll of parents with school-aged children shows one in three – or 34 percent – fear for their child's safety at school, the highest point in twenty years.
The annual poll, released Tuesday by Phi Delta Kappa International, looked at the public's attitude toward public school security. The results of the school safety section were released early to allow school officials to consider the results as they make preparations for the upcoming school year, according to AL.com.
The poll includes responses from 1,042 adults, including an oversample to 515 parents of school-age children.
The last time the poll results showed this many parents were concerned for their children's safety was in 1998 when 36 percent said they were fearful. The poll attributes those findings to two school shootings in Arkansas and Oregon in spring 1998 that attracted widespread media coverage. One of the shootings, at the time, was the second deadliest at a K-12 school in U.S. history.
Just five years ago, only 12 percent of parents reported feeling fearful for their child's safety while at school.
Overall, when asked about specific aspects of school safety, the poll found parents lack confidence that schools can protect their children against school shootings but favor armed police, mental health screenings and metal detectors over arming teachers.
The poll shows 80 percent of parents support armed officers in schools, 76 percent support mental health screening for all students and 74 percent support installing metal detectors at school entrances.
Arming teachers got far less support from parents, with only 37 percent believing it would improve school safety. However, that number rose to 49 percent if training and screening programs were put into place beforehand.
Additionally, when asked if they would choose to spend money on armed guards or on mental health services for students, 71 percent of parents chose mental health services.
"It's clear from the results that in many communities in the country, school safety is an urgent concern for parents," said Joshua P. Starr, the chief executive officer of PDK International. "By and large, those parents want to strengthen existing systems of security — using metal detectors at entrances, counseling for troubled students — rather than having teachers and staff carry guns in schools without plenty of screening."
The poll further found respondents' incomes and where they live heavily influenced their opinions on issues relating to school safety.
Forty-eight percent of parents with household incomes of less than $50,000 reported fearing for their child's safety at school, compared to 24 percent among parents with household incomes of $100,000 or more.
Fear also tops 40 percent among urban parents, nonwhites and those without college degrees. Furthermore, only 18 percent of parents in rural areas share the same level of fear as those living in cities.
The post Annual Poll Shows 1 in 3 Parents Fear for Child's Safety at School appeared first on Campus Safety Magazine.