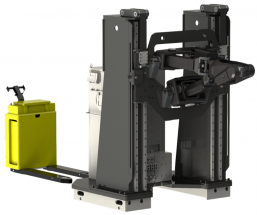 -Manufacturing & Cobot Roundup
-Cobots to drive demand for automation
-Universal Robots, Exechon, Yaskawa + Chery Automobile
-Rolls-Royce's microrobots
-Emotion-displaying, fish-catching & painting bots
-And much more!
Manufacturing & cobot roundup
Exechon Enterprises announced that it has sold its first automotive production XMini industrial robot to Refco Metals, a Dubai-based manufacturer of aluminium assemblies for luxury automobiles. Exechon Enterprises is a joint-venture company between Abu Dhabi-based Injaz National, Lockheed Martin and Sweden based Tecgrant AB.
Caption: Refco will use the bot to manufacture a range of automotive-grade aluminium alloy extrusions. Credit: Exechon
Spending on robotics and drones solutions will reach US$201.3 billion in 2022 and achieve a compound annual growth rate of 19.6% between 2017 and 2022, according to the latest update to IDC's Worldwide Semiannual Robotics and Drones Spending Guide.
IDC expects cobots to play an important role in this future growth:
"Collaborative robots are taking off in industrial applications, driven by customer demands for product quality, delivery, and mass customization," said Dr. Jing Bing Zhang, research director, Worldwide Robotics. "While being safe is the prerequisite for any collaborative robot, the market is already shaping the development of collaborative robots towards simplicity, smartness, and ease of redeployment."
SMART is a "collaborative, manufacturing and advanced robotics training project" that brings together experts from FIRST Robotics, Carnegie Mellon Robotics Academy, and manufacturing industry partners…
With all the talk of trade wars these days, some people are understandably concerned about potential disruption to existing business models and domestic and international trade. Such fears are misplaced, particularly for companies in the robotics space, wrote Brian Gahsman, portfolio manager of the AlphaCentric Global Innovations Fund, in a piece for CNBC this week.
The Robotics Group at the University of Patras is working on variable admittance control for human-robot collaboration based on online neural network training…
Robots will create jobs in countries that get their trade policies right, says Foreign Policy:
One big reason that Germany, Japan, and South Korea have managed to maintain proportionally large manufacturing labor forces despite their greater robot densities is their focus on exporting manufactured goods and their governments' success designing trade policies to serve that goal.
Meanwhile in the UK, new analysis from PwC concludes that AI and related technologies will create as many jobs as it displaces:
We estimate that these countervailing displacement and income effects on employment are likely to broadly balance each other out over the next 20 years in the UK, with the share of existing jobs displaced by AI (c.20%) likely to be approximately equal to the additional jobs that are created.
Luxury car maker Rolls-Royce is exploring the use of swarms of microrobots for jet engine maintenance, as part of the company's IntelligentEngine vision…
Given the growing global popularity of cobots, Asian Robotics Review wondered whether manufacturers will be able to scale up to meet demand.
Japan's Yaskawa Electric announced plans to partner with China's Chery Automobile to manufacture and sell robots and motors for electric vehicle production in China. Yaskawa will take a small stake in Chery unit Anhui Ruixiang Industry, though details were not disclosed, Nikkei Asian Review reported.
KUKA recently opened a brand new facility in Italy. The building houses a KUKA College, a metal and arc welding tech center, a showroom and service and sales support…
The star of this year's Erie County Fair in Upstate New York was 'Molly', an automated ketchup-dispensing system incorporating a cobot from Universal Robots…
Elsewhere…
The emotion-expressing bot developed by Cornell University's Human-Robot Collaboration and Companionship Lab was in the news again, following the publication of a paper related to their research. The prototype robot can express emotions by changing the shape and texture of its outer 'skin.'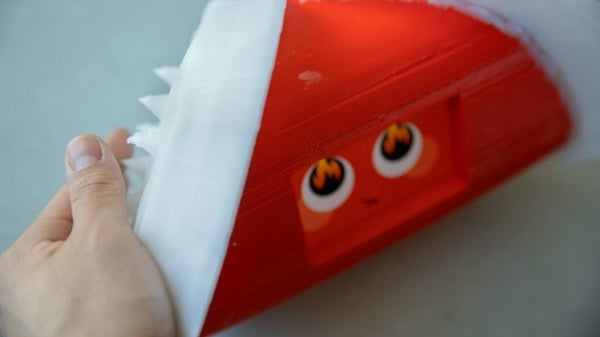 Caption: The robot prototype can express "anger" with its skin, which can turn spiky via fluidic actuators that are inflated under its skin. Credit: Lindsay France/University Photograph
From the team's paper:
"At the moment, most social robots express [their] internal state only by using facial expressions and gestures," the paper concludes. "We believe that the integration of a texture-changing skin, combining both haptic [feel] and visual modalities, can thus significantly enhance the expressive spectrum of robots for social interaction."
The winners of the 2018 RobotArt competition are available for viewing online. Compared to computer/robot-generated art of the past, this year's entries are spectacularly good. (H/T Popular Mechanics.)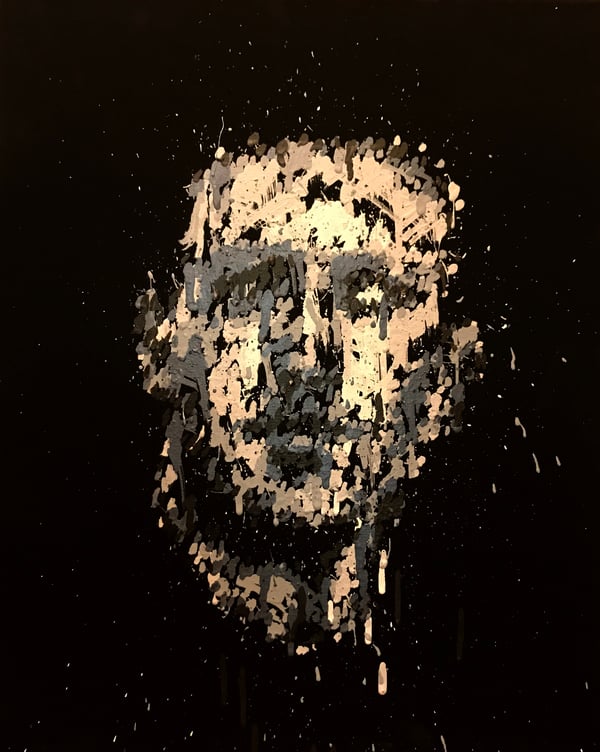 Caption: This piece (created by the winner of the US $40,000 prize, CloudPainter) is actually a collaboration between a deep learning system, the artist, and a graffiti artist.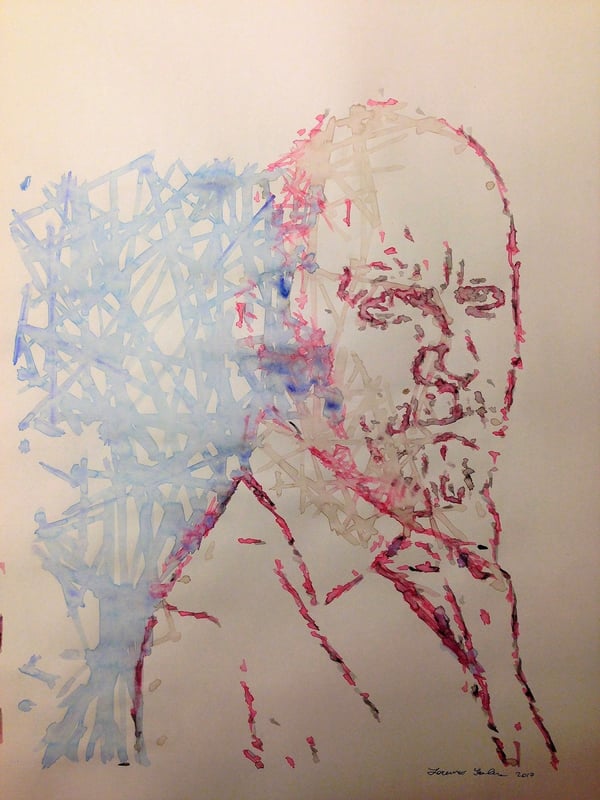 Caption: This piece was created with the help of a UR10 cobot from Universal Robots.
150 companies and more than 2,400 individuals from 90 countries working in AI and robotics (including Google DeepMind, the XPRIZE Foundation and Elon Musk) have signed a pledge to "neither participate in nor support the development, manufacture, trade, or use of lethal autonomous weapons". (H/T PhysOrg.)
Maxar Technologies acquired Neptec, a Canadian robotics firm specializing in satellite servicing and space station construction for CA$42 million (US$32 million). (H/T Space News.)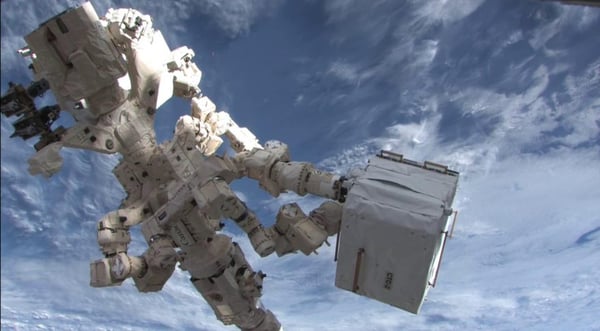 Caption: The Canadian Space Agency awarded Neptec an CA$11.9 million contract to develop a new vision system for the ISS in April. The upgrade will enable the ISS' Dextre robotic arm (shown above transferring cargo) to monitor for external damage. Credit: NASA
I'll be back next week with more robotics news! Until then…
Five vids for Friday
1. Aleksandra Przegalińska, an assistant professor at Kozminski University and currently a Research Fellow at the Center for Collective Intelligence at MIT in Boston, is an expert in human-robot interaction and wearable technologies. Przegalińska provided the keynote at the recent Polish Tech Day 2018.
2. SmokeBot is an EU-funded research project involving experts from three universities, a research institute, an industrial partner and end users from four European countries. The aim of the project is to develop robotic soutions for use in scenarios involving restricted visibility with a focus on robots that can support fire brigades in search and rescue missions and post-disaster management operations.
3. Experts from City University of New York have developed a robot that can capture and release deep-sea creatures without causing any injuries. The remotely-operated underwater vehicle neatly folds into a 12-sided box about 21 centimeters across that can gentle close around soft-bodied sea creatures that might be hurt or killed by other specimen-collection tools.
4. Researchers at Duke University have created a system that enables a small humanoid robot to use its arms to protect itself when falling, in much the same way a human does.
5. Robotics visionary Professor Hiroshi Ishiguro starred alongside two of his futuristic humanoid robot creations in Episode 7 of video series 'The Performers'. A thoughtful, slightly surreal short film, the piece revolves around a day in the life of Ishiguro and asks the question "What is the distinction between humans and robots?"