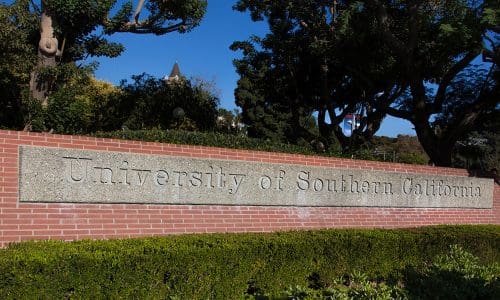 University of Southern California President Max Nikias has resigned from his role effective Tuesday, according to a statement from the school.
The Los Angeles school announced May 25 that Nikias agreed to step down in the wake of sexual misconduct allegations against a campus doctor.
George Tyndall worked as a gynecologist at the school from 1989 to 2016 and had been repeatedly accused of sexual misconduct and using racist language while examining patients.
An investigation by the school found evidence supporting the allegations against the now-former physician, who was suspended by USC in June 2016 and was later fired in June 2017.
Several former students have also filed lawsuits against USC, alleging the school failed to address numerous complaints from clinic staff about Tyndall's behavior.
Nikias will move into the role of president emeritus and life trustee of the university, a decision that has been highly criticized by several lawyers representing women who have filed lawsuits against Tyndall and USC, reports KEYT.
"A cosmetic departure 10 weeks after this was made public will do nothing to change the culture that has operated in the dark for 30 years," said Attorney Andy Rubenstein, who is representing 51 plaintiffs.
Attorney Gloria Allred, who is representing 36 women, called the move "a slap in the face to the hundreds of female students who have alleged abuse at the hands of Dr. Tyndall."
Board of Trustees chairman Rick Caruso said in a statement that the controversies that engulfed Nikias "have arisen from the unfortunate and unacceptable acts of others."
"From our investigations, which are not yet completed, we have found absolutely no wrongdoing on Max's part," he added.
USC has named board member Wanda Austin has interim president while the search for a permanent replacement continues.
Austin received a Ph.D. in industrial and systems engineering from USC in 1988 and served as president and CEO of the Aerospace Corporation from 2008 to 2016. She was also appointed by Barack Obama to serve on the President's Council of Advisers on Science and Technology.
According to the school's statement, the Board of Trustees has hired Isaacson Miller, an education recruitment firm specializing in academia, to help find a replacement within four to six months.
The board also approved forming the Presidential Search Advisory Committee, which will seek input from the campus community through in-person sessions and a website.
The post USC President Resigns, Replacement Named Amid Gynecologist Scandal appeared first on Campus Safety Magazine.