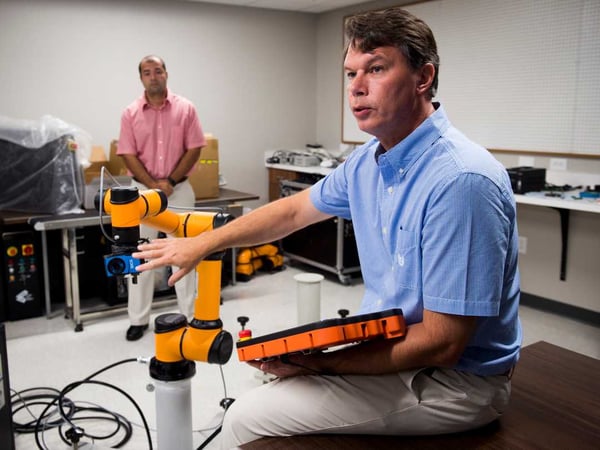 -Manufacturing & cobot Roundup
-AUBO, UR, Yaskawa
-Move.Ai raises US$3m
-Walmart + Alert Innovation pilot
-Smart skin, 'Vector ,' Brickbot
-Meet 'There's Waldo'
-And much more!
Manufacturing & cobot roundup
A team of recent University of Tennessee graduates now based at Cherokee Farm Innovation Campus has developed a visual recognition system specially for the arm of AUBO-i5 cobot.
Pic: AUBO Robotics' Peter Farkas demonstrates the new system. Credit: Brianna Paciorka/News Sentinel
The technology is expected to be used in the field "soon" and is compatible with existing AUBO-i5 cobots, according to reports.
It's an impressive development for the new robotics research facility at Cherokee Farm Innovation Campus, which brings expertise from AUBO, the University of Tennessee, and Oak Ridge National Laboratory (among others) together.
Meanwhile, Fancort Industries (a Universal Robots system integrator) released video of a cobot performing a screw driving task…
MOV.AI raised US$3 million in seed funding to create an 'Android for Robotics' —an industry-grade O/S for autonomous intelligent collaborative robots. (H/T TechCrunch.)
Yaskawa America released a demo video of its new Smart Pendant for robot programming…
Walmart and warehouse automation startup Alert Innovation announced plans to collaborate on a pilot program to test "first-of-its-kind automation" designed to help associates fill online grocery orders. The system, which is being installed at a Walmart supercenter in Salem, New Hampshire, will use Alert Innovation's Alphabots to automatically transport items from storage to associates. (H/T AUVSI.)
CGTN America reported on the adoption of robots in Brazil's automotive industry…
Asia is expected to become the largest market for collaborative robots in 4-5 years, according to Jurgen von Hollen, president of Universal Robots. Speaking at the Taipei International Industrial Automation Exhibition, Hollen noted that demand for cobots is growing faster in Asia than the global average. (H/T DigiTimes.)
The Machining and Robotics Research Team at the University of Nottingham, UK, released video of its 'Continuum Robot,' designed for in-situ repair of aerospace engines…
Car maker Audi and telecoms giant Ericsson are collaborating on a project to test the use of emerging 5G mobile phone and network technology in automotive production. Via Industry Europe:
"The collaboration aims to investigate the potential of 5G as a future-proof communication technology that meets the high demands of car production. In the second half of 2018, a team of experts from Audi and Ericsson will test a 5G radio cell in a pilot plant at the Audi Production Lab in Gaimersheim [Germany]."
This new video provides a nice example of a Before/After scenario where a carton-picking cobot replaced a manual task…

Collaborative warehouse fulfillment solution provider 6 River Systems announced that it has expanded its footprint to nearly 300 robots across 20 sites. The firm says it's "on track to meet its goal of 600 robots across 30 sites by end of 2018." (H/T BusinessWire.)
Industrial robot giant KUKA expects to see "explosive" growth in demand for industrial robots in the Asia-Pacific market, particularly in China, Japan, South Korea and Taiwan, according to reports.
Migatronic showed off its CoWelder cobot system…

The manufacturing industry "exhibits higher-than-normal rates of cyberattack-related reconnaissance and lateral movement activity," warns a new report from AI-powered cyberattack detection experts Vectra. The primary reasons for manufac.turers being targeted by cybercriminals? Intellectual property theft and business disruption. (H/T MMH.)
Elsewhere…
The University of Texas at Arlington has patented a smart skin created by electrical engineering professor Zeynep Çelik-Butler.
Pic: The smart skin's sensors are packaged in a chemical and moisture resistant polyimide to enhance usability in harsh environments. Credit: University of Texas at Arlington
Via PhysOrg:
"The idea is to have robots work better alongside people," said Çelik-Butler. "The smart skin is actually made up of millions of flexible nanowire sensors that take in so much more information than people's skin. As the sensors brush against a surface, the robot collects all the information those sensors send back."
Wired explored some of the things robot designers can learn from termites –from the impressive construction abilities displayed by large groups of termites to how social and group intelligence operates.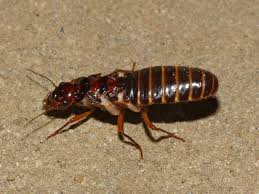 Pic: A termite takes a break from eating your desk. Credit: Wikipedia.
From the article:
"We imagine that the future of autonomous swarms is machinelike perfection and greater control, but moments of unpredictable, Three Stooges–like chaos are also likely to emerge."
Anki, the California-based Carnegie Mellon University spin-off behind the popular Cozmo robot, launched a Kickstarter for its new bot 'Vector' this week. Hanns Tappeiner, co-founder of Anki, said he wants Vector to be like the family dog or cat.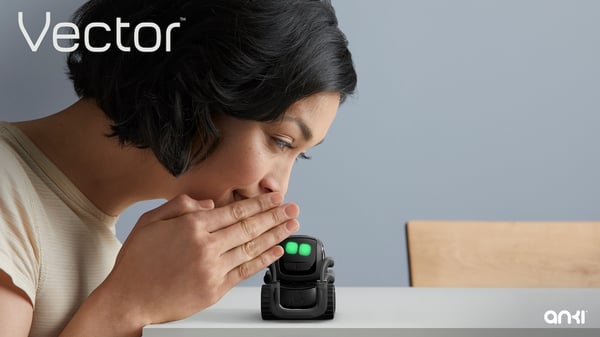 Pic: Vector is the latest social robot from Anki. Credit: Anki.

A prototype 'Brickbot' developed by researchers at Autodesk has taught itself how to assemble lego bricks using human-like learning techniques. (H/T ZDNet.)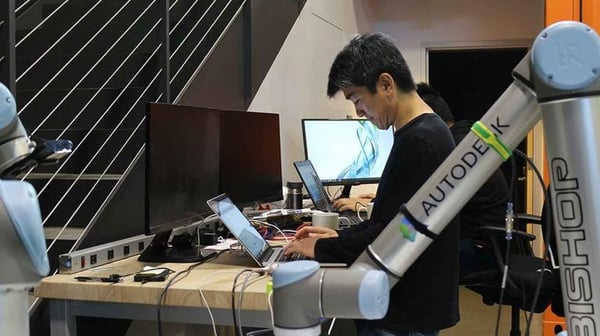 Pic: The researchers used neural networks to enable the robots to teach themselves. Credit: Via ZDNet.
Finally, NASA's Jet Propulsion Lab (JPL) announced the end product of its Open Source Rover project this week. The project features a Mars rover design that has been modified so that enthusiasts can build one at home, if they have about US$2,500 for parts and approximately 200 person hours available. (H/T IEEE Spectrum.)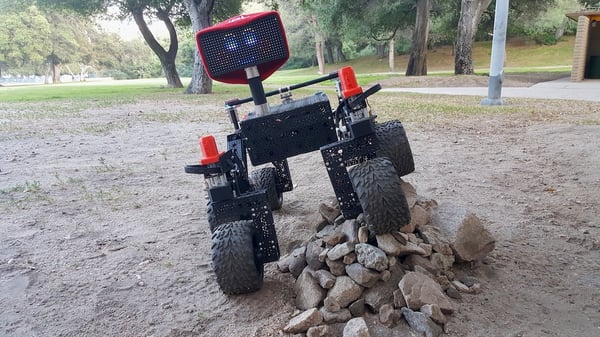 Pic: NASA JPL's open source rover poses for the camera. Credit: NASA JPL.
I'll be back next week with more robotics news. Until then…
Five vids for Friday
1. Researchers have developed a new fabrication process that enables the design of unique, soft microbots. To demonstrate the technology, the team created a spider-inspired bot with 18 degrees of freedom (DoF). With most soft microbots possessing just 1 DoF, this technology could greatly enhance the capabilities of medical robots.
2. Researchers at the U.S. Army's Institute for Soldier Nanotechnologies have developed a 3-D printing platform for complex magnetically actuated devices. The team built a 3-D printing platform incorporating an electromagnet nozzle and a new type of 3-D printable ink infused with magnetic particles. The research could lead to "new biomedical applications, magnetic ink optimized to strengthen soft robotic functionality, and new on-demand flexible material systems," PhysOrg reported.
3. Japanese researchers released video of a lightweight caterpillar-inspired, soft-bodied robot that can crawl along a stick. The bot features passive-grip/active-release opposable legs and actuation is driven by a shape memory alloy coil. Clever mechanical design enables the robot to hold position on an unstable substrate without consuming any energy.
4. To describe engineer Masaaki Nagumo as a fan of giant, anime-inspired robots would be an understatement. Nagumo single-handedly built the 28 feet tall, 5 tonne 'LW Mononofu' -a bot built for –and by– one. (H/T designboom.)
5. 'There's Waldo' is a prototype robot built to autonomously find Waldo and point at him. The robot takes a photo of the canvas and then uses OpenCV to find and extract faces. The faces are sent to the Google Auto ML Vision service which compares each one against the trained Waldo model. (H/T Gizmodo.)