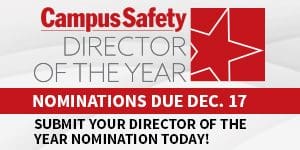 Campus Safety magazine is pleased to announce that it is now accepting nominations for the Director of the Year program. If you know a school, university or hospital police chief, security director or emergency manager who goes above and beyond the call of duty, demonstrating outstanding leadership skills, ingenuity, selflessness and overall achievement, we encourage you to submit his or her (or your) nomination.
Click on this link to submit your Director of the Year nomination.
Last year's winners included UNT Denton Police Chief Ed Reynolds, Robert Wood Johnson Hamilton Director of Security Robert Field, Val Verde USD Chief of Police Mark Clark and Berkeley County SD Tim Knight.
One of Clark's achievements was that he and his district improved access control and visitor management by working towards making campuses keyless and updating school front lobbies. Knight created an annual SRO summer training program for active shooters, de-escalation, defensive tactics, bomb threats, child abuse and sexual assault, CPR and more. Field revamped his hospital's workplace violence prevention program, which increased employee awareness by 17 percent, while Reynolds emphasized officer recruitment, raising pay levels to attract the best candidates and utilizing in-house marketing to save on recruitment costs.
Articles highlighting all four winners' accomplishments will be featured in upcoming issues of Campus Safety magazine as well as on CampusSafetyMagazine.com. Coverage of the previous year's hospital Director of the Year winner can be found here; of the higher education winner can be found here; of the K-12 winner can be found here.
How to Win
Following these four steps will ensure your nomination has the best chance of getting the judges' attention.
Clearly describe in a reasonable amount of detail the accomplishments of your nominee
Provide specific examples that demonstrate their achievements
Whenever possible, provide quantifiable data as to why your nominee deserves to win
Get your materials in on time, including recommendations from other administrators and employees
The Director of the Year Award Winner(s) Will Receive
Special editorial coverage and photos in a future issue of Campus Safety magazine as well as on CampusSafetyMagazine.com
Recognition in the campus public safety, security and emergency management community
Free admission to one of next year's Campus Safety Conferences
A custom trophy
Additional information that will help you prepare your nomination can be found here or at CampusSafetyMagazine.com/DOY2018.
Good luck to all of our nominees. May the best director win!
Photo: Clipart.com
The post Call for Campus Safety Director of the Year Nominations! appeared first on Campus Safety Magazine.