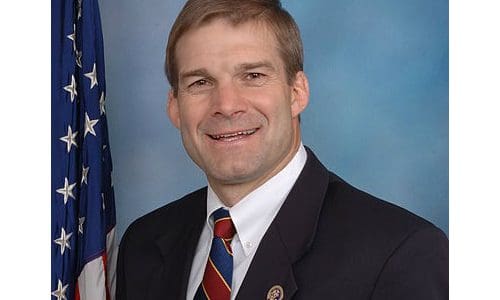 A former Ohio State University wrestler who accused U.S. House Representative Jim Jordan of ignoring sexual abuse by a team doctor when he was an assistant coach has recanted his claim.
Mark Coleman, a former OSU wrestler and UFC world champion, said in a press release that his previous comments "were not accurate", reports NBC News.
"At no time did I ever say or have any direct knowledgea that Jim Jordan knew of Dr. Richard Strauss' inappropriate behavior," Coleman said in the release. "I have nothing but respect for Jim Jordan as I have known him for more than 30 years and know him to be of impeccable character."
Coleman could not be reached to corroborate the press release put forward by Shirley & Banister Public Affairs, a conservative group that has been representing Jordan.
Jordan was previously accused by three former wrestlers, including Coleman, of knowing about the abuse of former team doctor Richard Strauss when he served as assistant coach from 1986 to 1994.
The former wrestlers said it would have been impossible for Jordan not to know that Strauss showered regularly with students and inappropriately touched them during appointments.
"There's no way unless he's got dementia or something that he's got no recollection of what was going on at Ohio State," Coleman said to the Wall Street Journal on July 5. "I have nothing but respect for this man, I love this man, but he knew as far as I'm concerned."
Coleman also used the press release to criticize former OSU wrestler Mike DiSabato, who has been the driving force behind the allegations against Jordan, according to The Daily Wire.
"I am distancing myself from Mike DiSabato, as he is not my manager and does not speak for me," Coleman said. "I am also disappointed with many of the public statements made by Mr. DiSabato and his personal attacks on individuals employed by the university and others."
DiSabato claimed Strauss sexually assaulted or raped a minimum of 1,500 student-athletes between 1978 and 1998.
"I considered Jim Jordan a friend," DiSabato said. "But at the end of the day, he is absolutely lying if he says he doesn't know what was going on."
Jordan has repeatedly denied all allegations against him.
The post Former OSU Wrestler Recants Claim Rep. Jim Jordan Ignored Doctor Abuse appeared first on Campus Safety Magazine.