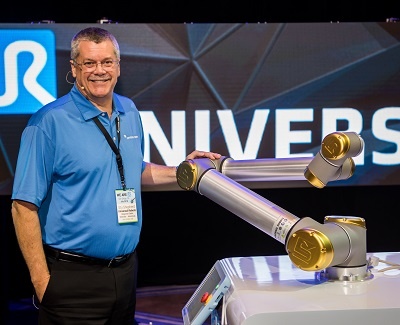 -UR's 25,000th Cobot!
-The ROBOTT-NET project
-NASA sensing Opportunity?
-GRAB Lab's bio-inspired gripper
-Robot Trousers
-Five vids for Friday
-And much more!
Manufacturing & cobot roundup
Cobot pioneer Universal Robots celebrated its 25,000th cobot sold with a unique Gold Edition Cobot at the IMTS trade show in Chicago. Since Universal Robots launched in 2008, the company has maintained its lead over competitors and currently holds an estimated 60% of the global cobot market.
Pic: Universal Robots' 25,000th cobot sale was to Kay Manufacturing, a small precision machining company headquartered in Calumet City outside Chicago.
In 2017, Universal Robots saw 72% growth and are targeting 50% growth in 2018. The first half of 2018 has seen revenue of $105 million, while growing their workforce by 150 people during the same time. Long term, according to von Hollen, is to maintain greater than 50% market share within the cobot category.
ZDNet has more on this story from "the fastest growing segment of industrial automation."
In what was a busy week for Universal Robots, the company also launched its 'Application Builder' –a tool designed to "ease robotic cell configuration and deployment while raising robot literacy and capabilities."
Techman Robot launched its TM12 and TM14 cobots at IMTS. The new cobots have a payload capacity of 12kg and 14kg and a working area of 1100mm and 1300mm, respectively.
Yaskawa Motoman released video showcasing its new HC10 cobot…
One of AUBO's cobots was filmed doing some spray work…
Europe's ROBOTT-NET project brings experts from countries across Europe together to offer "highly qualified consulting services at no cost to companies that either want to use robot technology in their production or want to develop new robot technology to sell." The project kicked off two years ago and Robohub ran an in-depth update about the work done so far, from robotic nurses' assistants and construction bots to automated waste sorting solutions.
In other cobot & manufacturing news…
Elsewhere…
Like something straight out of a Wallace and Gromit movie…
…a team of British researchers has created a pair of robotic trousers, albeit ones with a serious purpose: helping people with functional disabilities and those with mobility problems in old age to get around.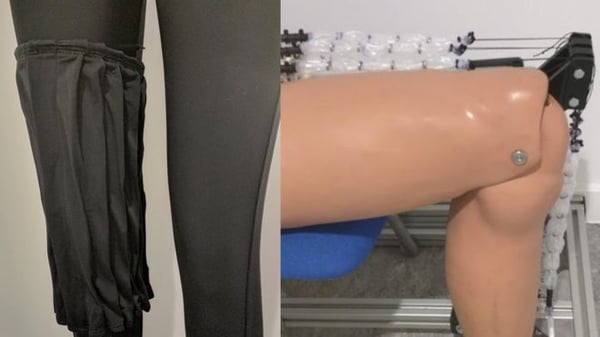 Pic: The left side shows a stiffening "cuff" designed to support the knee, the right shows artificial muscles that can raise a robotic leg. Credit: University of Bristol
Via the BBC:
"The health service wants this. It is really good at realising that if you are going to interact with the human body, you probably want something that is soft… rather that one of these scary rigid exoskeletons," [said Prof Rossiter, from the University of Bristol]. The next phase of the team's work is going to involve working with clinicians, charities and prosthetic device companies.
Yale's GRAB Lab revealed a gripper design that emulates the way humans manipulate objects in a single hand by varying the amount of friction between the robotic 'hand' and the object it is holding.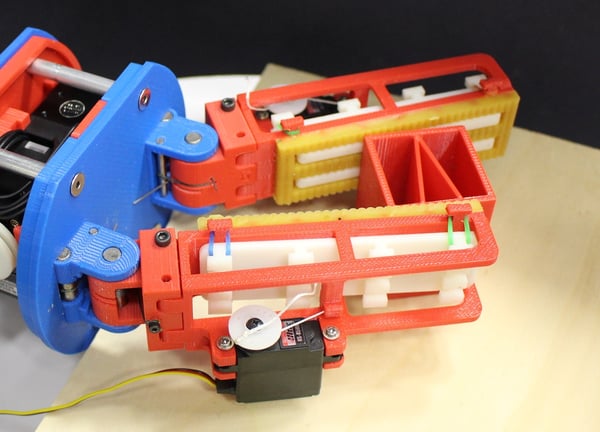 Pic: The yellow region is deformable, while the white plastic area provides a rigid physical interface. Credit: Yale GRAB Lab
Via IEEE Spectrum:
Pure in-hand manipulation is cool, of course, but in a very practical sense, what's important here is the objective: making it possible for robots to affordably and reliably do useful things in the real world, especially when it comes to things like prosthetics.
See the system in action here.
NASA began a 45-day active-listening period in the hope of reconnecting with the robot rover Opportunity after three months of silence and as the Red Planet's dust storms start to wane. Throughout this period, NASA engineers will "nudge the spacecraft several times a day, rather than the three times a week that had been the procedure," Space.com reported.
Robot social engineering –the intersection of human-robot interaction, security and privacy– could see robots being used to extract personal information from humans. Brittany "Straithe" Postnikoff, a graduate researcher at the University of Waterloo in Ontario, is a leading expert on this possible threat. TechTarget ran an interview with Postnikoff this week, that's well worth a read.
Jeff Hancock, PhD, Stanford University, spoke on the topic of "social robots and deception" this week too…
I'll be back next week with the latest robotics news. (Unless I'm deceived by a robot along the way, of course!) Until then…

Five vids for Friday
1. Researchers from MIT's Computer Science and Artificial Intelligence Laboratory have developed a system that enables robots to inspect random objects and understand them sufficiently to accomplish specific tasks –all without ever having seen the objects before. (H/T Wired, Robohub)
2. During NASA's recent celebrations to mark the agency's 60th anniversary, an expert panel looked back at "how far NASA's robotic exploration has come, and consider where we might be headed." Video of their fascinating discussion went online this week.
3. Experts at the Vienna University of Technology have trained an industrial robot arm to create string art based on digital photographs. (H/T TechXplore)
4. The human-size, bipedal Mercury bot at the University of Texas' Human Centered Robotics Lab endured a little punishment this week as roboticists tested how well Mercury could maintain balance and gait in a cluttered public space. And by 'cluttered,' I mean 'people throwing balls at you.' (H/T University of Texas)
5. Tom Scott reported on the Soft Car 360 (aka Global Vehicle Target) -"the new standard for testing autonomous driving and crash test systems."