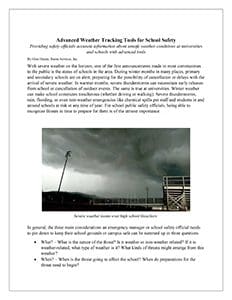 Schools in South Carolina are finally reopening after Hurricane Florence hit the East coast on Sept.14. While some schools only missed a day, others were closed for three weeks.
More than 500,000 students in 57 South Carolina school districts missed at least one day of school, according to The Post and Courier.
Beyond the three makeup days state law requires schools to schedule, school boards must decide what to do about the other missed days. Some are considering holding class on Saturdays.
Thankfully, most school buildings were not damaged by the storm. Even schools in Horry County, where the initial winds and rainfall hit, a district spokesman confirmed there were minimal damages.
Similarly, while some students only endured bad weather and days off from school, others lost their homes and everything they owned. Many students and families were forced to move to storm shelters to ride out the storm.
Rachel Black, a school librarian at a school in Marion County, has not seen her school since the storm. As of Friday, her school was still closed.
In the meantime, Black and her colleagues have been visiting the storm shelters to check in on students.
"Mostly, they just needed some company," Black said. "Sometimes it's good to see a familiar face."
Marion County superintendent Kandace Bethea says the whole community has come together during this difficult time.
Marion football player Bobby Bethea said the whole team contributed by unloading supplies to the storm shelters.
"It's just that Marion means something to us, so we're going to give back," Betha said.
On Thursday, Horry County schools had not decided what to do beyond the three makeup days pre-scheduled into the school year. Spokeswoman Lisa Bourcier says they are still coming up with a plan.
The issue of missing so much class time is not lost on these school districts as students could be negatively affected.
In this study from 2014, researchers found that "every day of attendance in school contributes towards a child's learning, and the academic outcomes are enhanced by maximizing attendance in school."
The study also found that students from lower-income households were more affected by missing class than other students.
In South Carolina, many of the districts that Florence hit were in poor areas.
Schools across the state were ordered by Gov. Henry McMaster to close four days before the hurricane hit to prepare, reports The State.
Despite those days being calm for many districts, people stand by the decision to close early.
"In our opinion, [McMaster] made the right call," Ryan Brown, spokesman for the state Dept. of Ed., said. "You never know with a massive, Category four hurricane…It's better to be prepared."
In Dillon, who opened their schools on Tuesday after 10 days of being closed, Superintendent John Kirby's main concern was checking the road conditions.
He confirmed that the bus drivers tested their routes to make adjustments for disabled bridges or sinkholes.
As other schools re-open, teachers are being asked to be sensitive to the students whose families were affected by the storm. The district used funds from the McKinney-Vento Act to buy replacement uniforms for students who lost theirs.
The main concern for many schools is getting their students back to a normal schedule. Dillon Superintendent Ray Rogers says he is working on restoring a sense of normalcy.
"Everything's up in the air," Rogers said, "and when kids see the uncertainty I'm sure it affects them, too."
The post Florence and Flooding Have Closed Some SC Schools for 3 Weeks appeared first on Campus Safety Magazine.