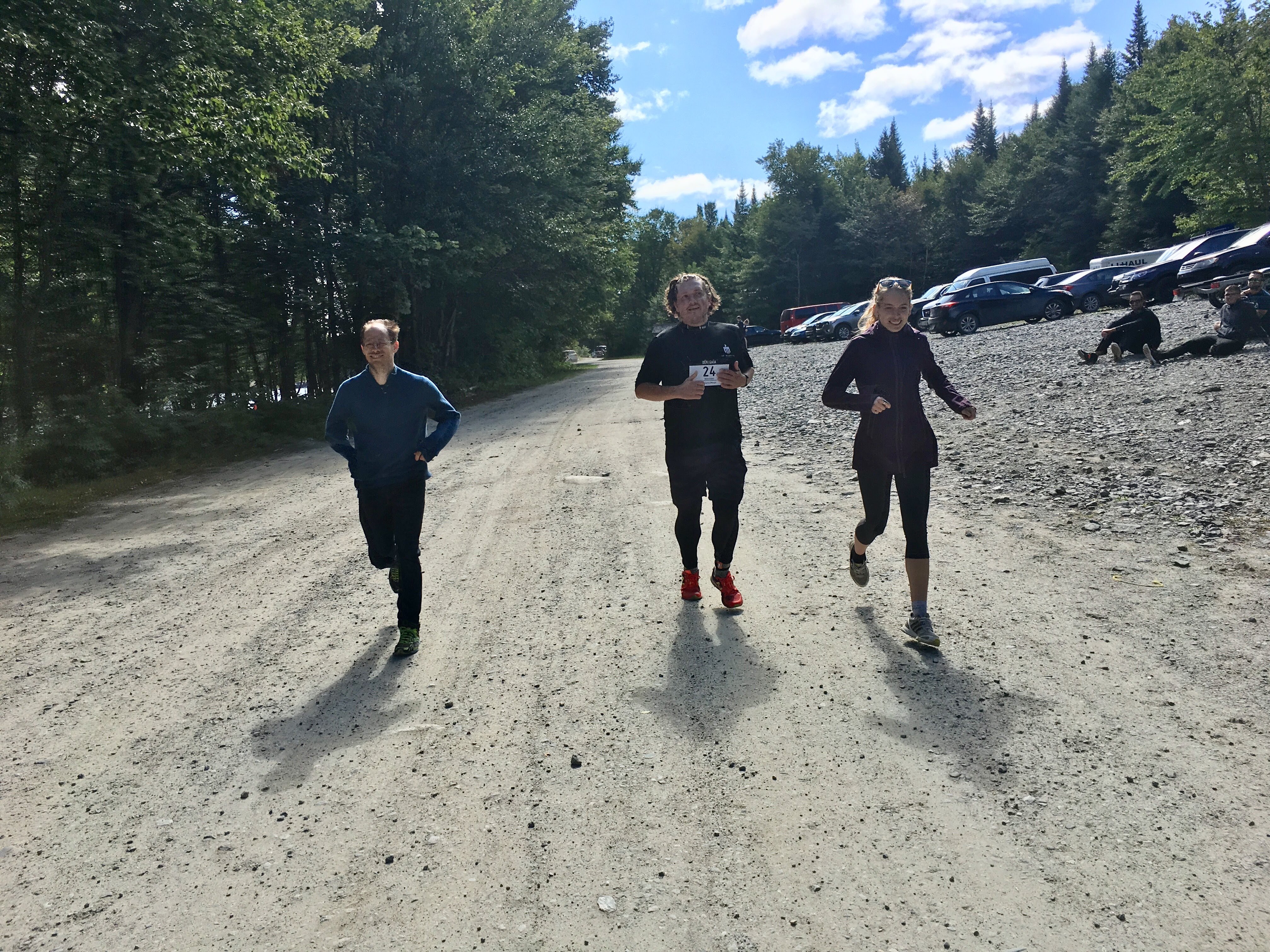 Robotiq gathered a team for the Défi Gaïa, an outdoor event to support Village Monde, an organism that encourages wealth-producing initiatives in remote communities, through the development of micro-economic projects promoting local entrepreneurship. Here's the story of their day, written by Robotiq Product Owner Annick Mottard.
The night before the Défi Gaïa, we were tearing down the RUC. As we worked, we were looking at each other wondering "why are we doing this, again?" The answer: For Haiti!
The Défi Gaïa is organized by Village Monde, which uses the funds raised during the challenge to "improve the lives of many families around the world by reinforcing local initiatives that have positive ecological, economic and social effects." Their online reservation platform also entices people to travel differently and experience the extraordinary.
So what is the challenge? It's a competition with canoeing, mountain biking and trail running portions. We opted for the "relay" competition, with Marc-Antoine and Laurent canoeing, Annick biking and Sébastien running. All while travelling through the spectacular Portneuf Natural Regional Park.
#nofilter
Cut to September 8. The morning of the challenge, we got up early because we had to be at the park for 7 AM sharp. Let me tell you, 7 AM in September in Portneuf is not exactly warm. Laurent warmed up as much as he could by making a kilt with his beach towel. I had my winter jacket on, and Marc-Antoine was in shorts. We were encouraging each other by saying "This is warmer than the pentathlon!" We were taken to choose our racing canoe, in Robotiq blue, and did 5 minutes of mandatory Zumba before departing. Don't worry, our mad scientist Marc-Antoine avoided the Zumba!
Pre-race meeting with Laurent sporting his kilt.
The teams launched their canoes a few minutes ahead of the race. I told Sébastien that I needed to get ready for the second challenge, biking, pretty fast, since I expected our racers to be some of the first out of the water.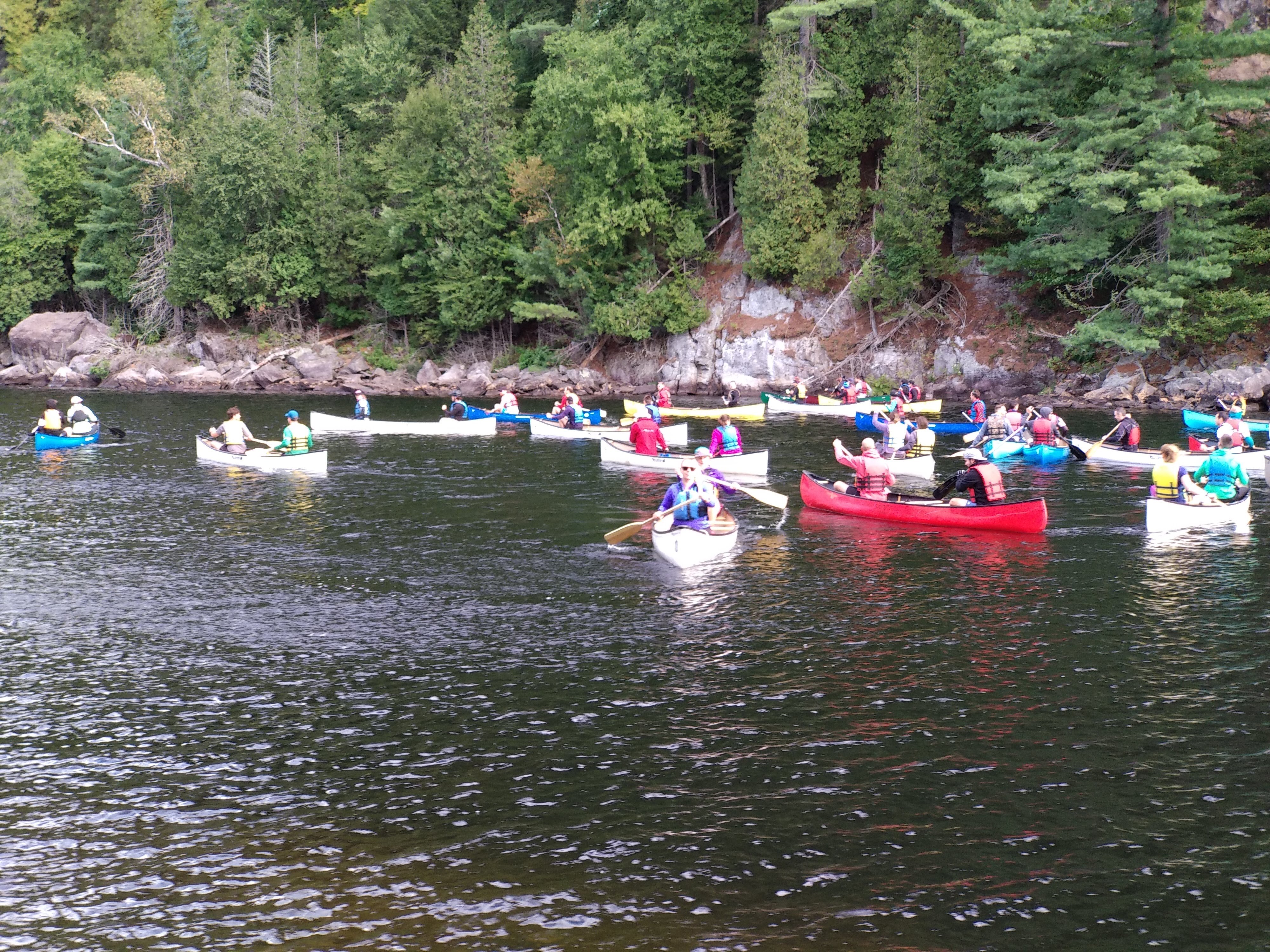 Marc-Antoine and Laurent in their strategic starting position
I wasn't too far off; the mighty Laurent and Marc-Antoine emerged in second place! I started the biking portion as the leader of the pack (… I didn't finish the same way). It was more of a "gravel biking" course than a mountain biking course, but I'm still thankful I had my fat tires. They let me tear down the hills at Mach 1000 without having to worry about a wipeout.
In the second half of the course, we had to face two fairly long and steep inclines. I dropped gears too quickly and my chain came off the rails. "Thank God I'm a mechanical engineer so I can fix this," I muttered to myself as I set off again.
I then passed the baton to Sébastien who headed off on his 9 km trail run, sporting a his famous soccer shirt with the name "Seba$$." After he finished, we were immediately asked to take a photo. At that point, Seb exclaimed "I'm not in shape anymore!"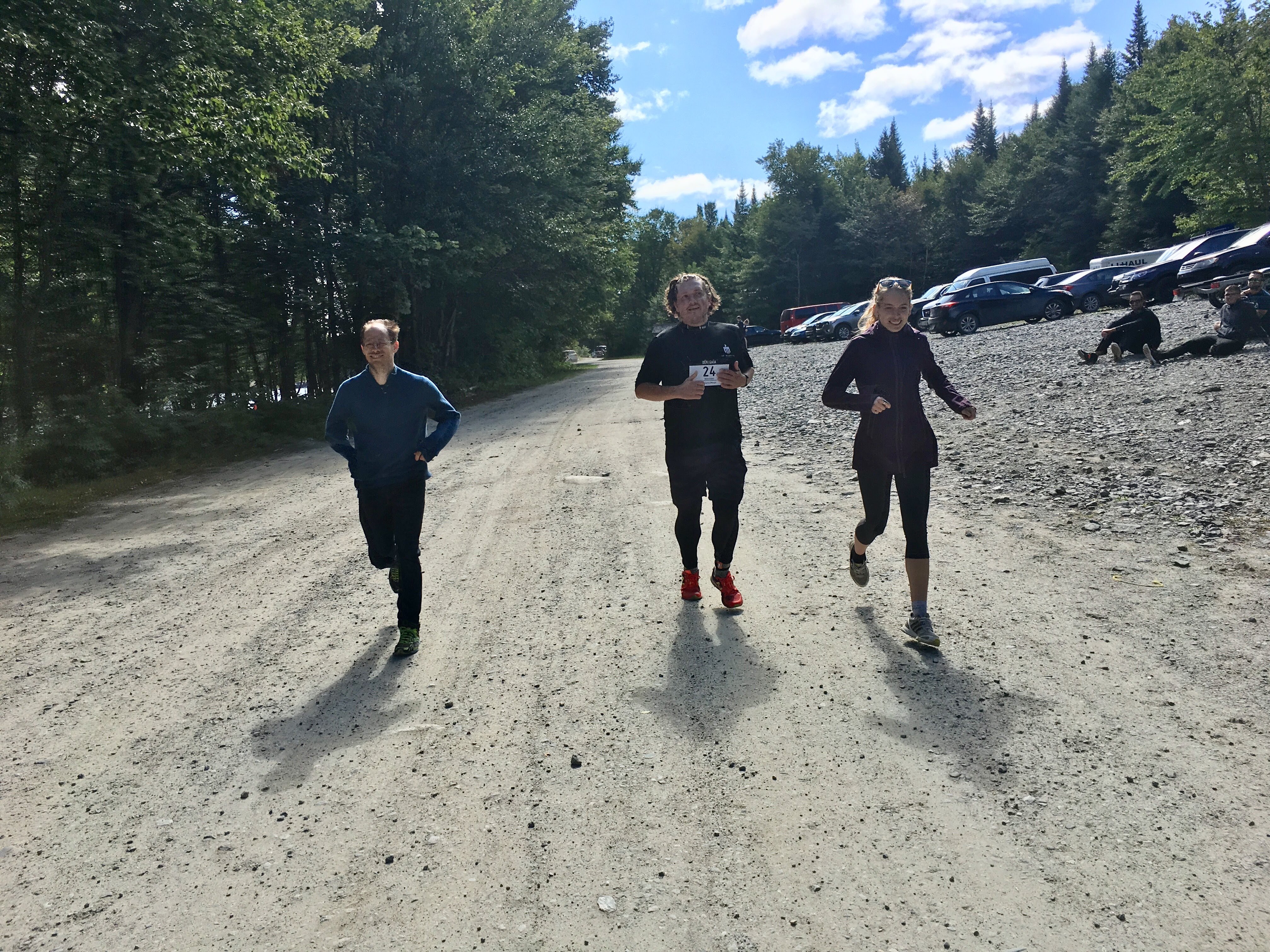 Final sprint, photo credit: Laurent, sprinting
Our team effort earned us third place (yay!).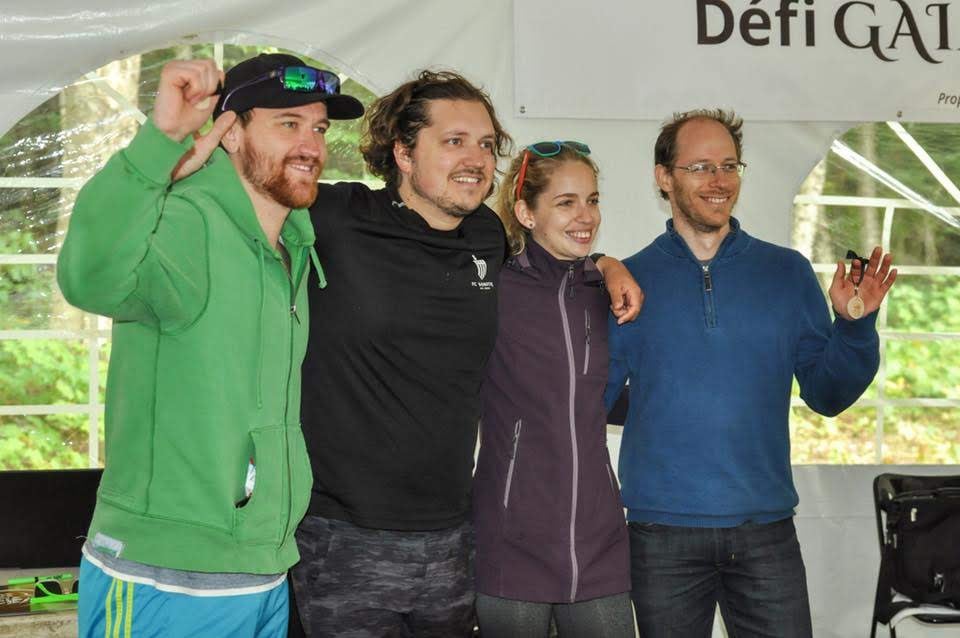 We are the (third-place) champions!
We left with tired bodies, a tree to plant at the office, a third-place medal and a feeling of accomplishment. Thank you, Robotiq!! We did you proud.