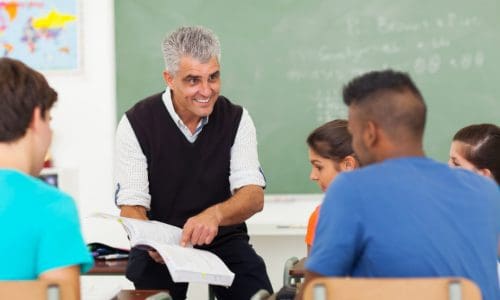 Dozens of students participated in a walk out at Western High School Tuesday afternoon in support of a school security guard who has been accused of choking a student.
The security guard, Alan Davis, is seen on video choking a student as he tries to break up a fight between two boys, reports ABC 10.
The incident occurred last week and police and school officials are still investigating. As of now, Davis remains employed at Western High.
"In response to a complaint regarding the security guard's actions during the incident, school administrators adhered to procedures for an investigation," said Nadine Drew, Broward County Public Schools spokeswoman. "Based on an initial review, the employee has not been reassigned at this time."
According to 17-year-old student Tristian Eaton, Davis was choking his friend, Alec Ortega. Eaton says he stepped in to stop the security guard when he saw Ortega, gasping for air.
"At the time, I had just thought that he was going to choke him to death, because I'd seen my friend, Alec, couldn't breathe," Tristian said. "I just panicked and tried to separate the two."
School officials say Davis put Ortega in a choke hold to prevent him from fighting another student. Ortega, however, claims the security guard placed both hands around his neck to choke him.
Both Ortega and Eaton have been suspended from school. The fathers of each boy say Davis should be fired.
Many students are standing behind Davis, saying he was just doing his job and is someone students respect at Western High.
"He went to break up the fight and the kid swung on the security guard," one witness said. "Everybody just feels it's not right for someone to lose their job over something that's false."
Students who walked out of school on Tuesday feel it was the right thing to stand up for someone who protects them every day.
"Say that the kid that got into the fight had a gun, or maybe a knife, and Mr. Davis didn't do what he did, he would have gotten in trouble for not doing anything," one student said.
The post Students Walk Out of Western High School to Support Security Guard appeared first on Campus Safety Magazine.