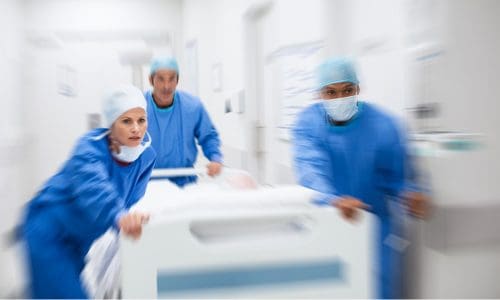 An armed man chased two victims outside the entrance of the University of Kansas Medical Center Monday night, where he shot one man and then turned the gun on himself.
Authorities received an alert around 11:30 p.m., about a shooting outside the hospital, reports Newsweek.
Police spokesman Tom Tomasic says the two victims, a male and female, were injured at an initial shooting and were driving themselves to the hospital for medical assistance.
"I know the car has, at least on one side of it, the victim's car has some glass shattered out of it," said Tomasic. "So, we believe that, obviously, the shooting started down there, and they tried to flee up here."
The male victim, 28-year-old Dominic Garcia had left his vehicle to try and enter the hospital's emergency room, but the doors were locked due to the late hour. That is when the shooter took out his gun, shot at Garcia, and then shot himself.
Hospital staff received a text message about an active shooter on campus urging them to, "run, hide, and fight." The "all clear" was given to staff around 12:30 a.m.
Tomasic confirmed that both victims and the shooter were rushed into the emergency room, where the shooter was pronounced dead. Garcia died Tuesday morning.
The hospital released a statement saying the female victim did not appear to be in life-threatening danger and no hospital employees were injured during the shooting.
"Last night we had an unfortunate incident that took place in front of KU Hospital main entrance," the hospital tweeted on Tuesday. "Thank you to staff who was present during this event…The campus is safe and open today."
The incident has raised questions about hospital safety and security, reports KSHB.
"I know they [hospitals] are safe. I know they are secure. Just like any other public place, there is only so much they can do," said Trace Hawkins, CEO of Safety and Security Source.
She believes that incidents like these should not make people fear to be in public, but to be aware of their surroundings and be prepared no matter where they are.
A spokeswoman for the hospital says what the hospital did right and wrong during this incident and other security issues will be discussed in an upcoming meeting.
The post 2 Dead, 1 Injured After Gunman Opens Fire Outside KU Hospital appeared first on Campus Safety Magazine.