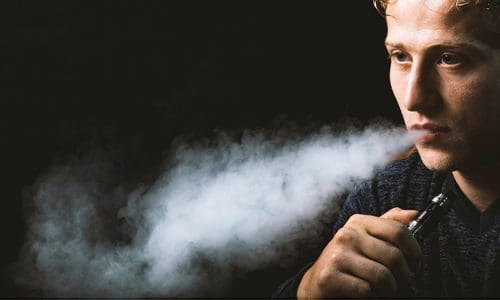 A new report from the National Institute on Drug Abuse (NIDA) shows a significant increase in teen vaping from 2017 to 2018.
The annual Monitoring the Future (MTF) survey, funded by the NIDA, looks at drug and alcohol use and attitudes among eighth, tenth and twelfth graders in the United States.
This year's study included responses from 44,482 students at 392 public and private schools and found 37.3 percent of twelfth graders reported "any vaping" in the past 12 months, compared to 27.8 percent in 2017. It is the biggest year-to-year increase in substance use ever recorded in the survey's 44 years.
Vaping among eighth and tenth graders also increased from 13.3 percent to 17.6 percent and 23.9 percent to 32.3 percent, respectively.
The increase in vaping equates to 1.3 million more teens vaping within a single year, reports ABC News.
This is the second year the survey has also asked about vaping specific substances, including nicotine, marijuana or "just flavoring". The results show a particularly concerning increase in vaping nicotine, with reported use specifically in the 30 days before the survey nearly doubling from 11 percent in 2017 to 20.9 percent in 2018.
"The younger someone is when they first take a drug, the more vulnerable they are to developing an addiction in the future," said survey contributor Dr. Richard Miech. "The teen brain is still developing and is, therefore, more vulnerable to the negative effects of substances, including nicotine. Nicotine primes the brain to the rewarding effects of other drugs."
Some additional findings, which we have also provided a graphic of below, include:
Among eighth graders, 15.1 percent reporting vaping flavoring, 12.4 percent marijuana and 10.8 percent nicotine.
Among tenth graders, 15.1 percent reported vaping flavoring, 10.8 percent nicotine and 4.4 percent marijuana.
Among twelfth graders, 29.7 percent reported vaping nicotine, 25.7 percent flavoring and 13.1 percent marijuana.
Although the survey also found a decrease in tobacco, alcohol and opioid use among teens, experts are concerned that the significant increase in vaping will lead to the use of other drugs.
"Teens are clearly attracted to the marketable technology and flavorings seen in vaping devices; however, it is urgent that teens understand the possible effects of vaping on overall health; the development of the teen brain; and the potential for addiction," said NIDA director Dr. Nora Volkow. "Research tells us that teens who vape may be at risk for transitioning to regular cigarettes, so while we have celebrated our success in lowering their rates of tobacco use in recent years, we must continue aggressive educational efforts on all products containing nicotine."
The study's findings mirror the latest results from the National Youth Tobacco Survey, which prompted the Food and Drug Administration to announce plans to restrict the sale of flavored e-cigarettes.
In April, the FDA described vaping as the next epidemic among U.S. high schoolers as there has been a 900 percent increase in e-cigarette use by high school students from 2011 to 2016.
The post Teen Vaping Jumps 10% in Past Year Alone, Survey Finds appeared first on Campus Safety Magazine.