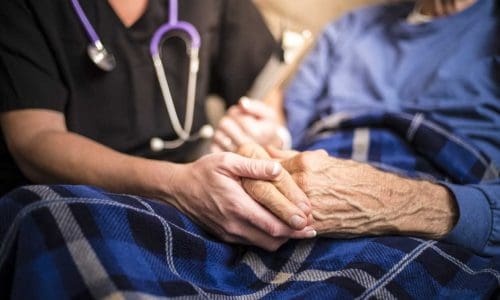 Police are investigating a sexual assault after a woman who has been in a vegetative state for over a decade gave birth at Hacienda HealthCare.
The victim, who has been a patient at the Phoenix, Ariz., nursing facility since a near-drowning incident, gave birth to a baby boy on Dec. 29. Staff did not know the woman was pregnant until she went into labor.
"There was a nurse that was there, and from what I've heard she's the one that delivered the baby," an unidentified source told CBS 5. "From what I know the baby is alive, and the baby is healthy."
The patient, who requires round-the-clock care, is in an awake but immobile and unaware vegetative state.
A Phoenix police spokesman says the department is investigating but has not released details about the case. The state's Department of Economic Security also dispatched a team to conduct health and safety checks at the facility, according to The Washington Post.
Governor Doug Ducey's office released a statement regarding the incident, assuring the state is "reevaluating the state's contract and regulatory authority as it relates to this facility and have been working closely with state agencies to ensure all necessary safety measures are in place."
Dr. Greg Marchand, an OB/GYN, told CBS 5 it is a miracle there were no severe complications as the woman had no prenatal care and was not able to help push the baby out.
"It could have been an active labor for hours or even days. This easily could have resulted in a fetal death," he said.
And although the woman is unable to communicate, she was likely to have felt pain during labor.
"There's no doubt she was able to feel pain, but how much consciousness there was to really take the suffering from that is what I don't know," Marchand added.
The unidentified source says the facility has changed its protocol, requiring a male staff member who enters a female patient's room to be accompanied by a female staff member. Family members of patients also say they have noticed more security guards.
Karina Cesena, whose 22-year-old daughter has lived at the facility for several years, says staff won't provide any information regarding the investigation.
"Trust has been broken. Trust has definitely been broken," she says.
No one has been arrested in connection with the case. Cesena plans to stay at the facility with her daughter 24/7 until the perpetrator is found.
The post Vegetative Patient Impregnated, Gives Birth at Hacienda HealthCare appeared first on Campus Safety Magazine.