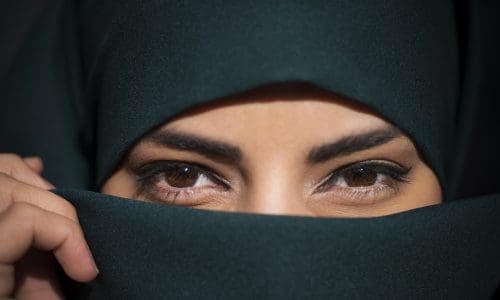 A Muslim family was allegedly discriminated against by hospital staff at Inova Fair Oaks Hospital in Fairfax, Va., last month.
While visiting the hospital to welcome the birth of a newborn baby, the family was confronted by a security guard, reports NBC Washington.
"He screams and he says, 'You're not allowed to be here!' And then he said, "You know, you look scary,'" recalled Arwa Zahr, who was visiting her nephew's baby.
The family was told to return to the lobby and did not get to see the baby.
Both Arwa and her mother we were wearing a niqab, a veil that traditionally covers the face for reasons of modesty, according to Daily Mail.
They believe this was what prompted the discrimination.
"I was shocked," Zahr said.
According to Ahmed Zahr, the newborn's father, the family was also discriminated against by the shift manager when they tried to report the guard.
"We tried to explain [to the supervisor] our side of the story. He looked at my mother as she was trying to explain what happened, and he told her, 'Close your mouth or I'll kick you out,'" he said.
Zahr says the supervisor went on to tell the family about how nobody at the hospital, including doctors and nurses, wanted the family at the hospital.
As Zahr continued to defend his family, the supervisor called the police.
"It was surprising to me. First of all, we weren't threatening in any way. No one had done anything," he said.
The family says they were especially hurt by the discrimination because the baby's grandparents, Dr. Nabil Zahr and Karima Zohdi, have volunteered at another hospital in the Inova system. They also founded and run The Palm Tree School, a private school in Fairfax that provides Islamic and standard studies.
Ahmed Zahr says this is the first time his family has been experienced abuse this severe.
"Just to be threatened like that just because of the way you're dressed," he said. "We've been living here for, you know, 20-plus years. I haven't witnessed discrimination to this extent."
Inova Fair Oaks Hospital Group said they are reviewing the family's report and offered to meet with the Zahrs. The family, however, is not interested in meeting with the hospital until they know what action is being taken.
The hospital said in a statement that all patients "have the right to a respectful, safe environment, free from all forms of discrimination."
The post Muslim Family Claims Discrimination at Virginia Hospital, Staff Calls Them 'Scary' appeared first on Campus Safety Magazine.