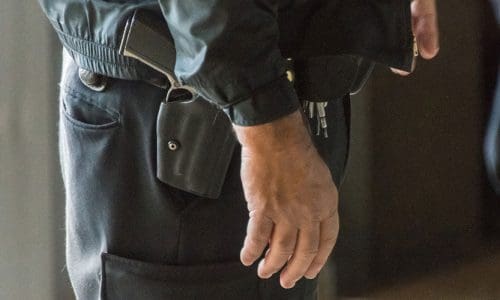 The International Association for Healthcare Security & Safety (IAHSS) announces the release of a new industry guideline titled "Firearms in the Healthcare Security Program."
The guideline, which was developed by the IAHSS Council on Guidelines, recommends healthcare facilities assess several issues before choosing to arm security officers.
"IAHSS is often asked to comment on the issue of whether security officers in healthcare should be armed or not. The Council on Guidelines has issued this guideline to encourage Healthcare Facilities to evaluate a multitude of factors and data prior to considering inclusion of firearms as part of the security program," says council chair Dave Brown. "The guideline also recommends a number of policies, programs and practices be implemented whenever firearms are introduced into a security program."
At minimum, says the council, the decision-making process should include a multidisciplinary team made up of subject matter experts from security, legal and risk management, human resources, and administrative leadership.
When developing policies and procedures regarding a firearms program, the council also recommends the following:
Enhanced background checks to include psychological screening by a qualified entity with established time frames for regular reevaluations
Obtaining the appropriate licensure and certifications to include ongoing training requirements
Establishing approved equipment standards for firearms, retention holsters, personal protective equipment, and ammunition appropriate for the environment
Then process for acquisition, management, and security of firearms
Establishing an audit and compliance program for firearms and related equipment to include inspection, maintenance, repairs, modifications, and individual qualifications
Establishing areas where firearms will be restricted and safekeeping procedures for the firearms
Establishing an after-action review by a multi-disciplinary committee, investigation to include authority and reporting requirements for firearm deployments and near-miss events
Each year, the Council on Guidelines develops new industry guidelines and reviews existing guidelines on a three-year cycle.
All IAHSS guidelines are available electronically to IAHSS members via the IAHSS website.
The post IAHSS Issues New Guideline for Firearms in Healthcare Security appeared first on Campus Safety Magazine.