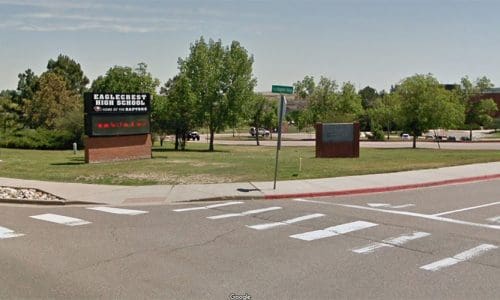 A man was shot and killed by his neighbor outside an Aurora, Colo., high school following a longtime dispute over parking.
Anthony "T.J." Cunningham, 46, was shot outside Eaglecrest High School on Sunday after his neighbor, 31-year-old Marcus Johnson, told police Cunningham had attacked him earlier in the day, reports The Denver Post. He died on Monday afternoon, according to the Arapahoe County Sheriff's Office.
Sheriff's spokesperson Deborah Sherman said the neighbors, who live near the school, had been fighting over a parking spot in their neighborhood when a physical altercation broke out between the pair.
The two continued to taunt each other over text message and agreed to meet at Eaglecrest to settle the dispute. According to a probable cause statement for Johnson's arrest, Cunningham's brother, Tyrese McClinton-El, went with him to the school's parking lot. He told police that Johnson and Cunningham agreed to meet at the school to "box it out."
McClinton-El then told deputies when Cunningham and Johnson arrived, they began walking toward each other and calling each other names. Johnson said Cunningham approached him with a bottle and that's when he opened fire.
A passerby called police to report the shooting. Several minutes later, Johnson called police to tell him he shot his neighbor and that he was going back to his home.
While it is unclear who suggested the two meet up, Johnson was the only one who brought a gun, which was later recovered from his car.
Cunningham was an assistant principal at nearby Hinkley High School and used to play safety for the Seattle Seahawks. He was married with children, according to CBS Local.
Aurora Public Schools released a statement, offering condolences to Cunningham's family and indicating additional counselors would be on hand at Hinkley High School.
Johnson, who has a criminal history that includes assault and a weapons possession charge, was originally being held at the Arapahoe County Detention Center on an attempted murder charge. The charge was amended to first-degree murder following Cunningham's death.
The post Aurora Asst. Principal Shot, Killed at Eaglecrest High over Parking Dispute appeared first on Campus Safety Magazine.