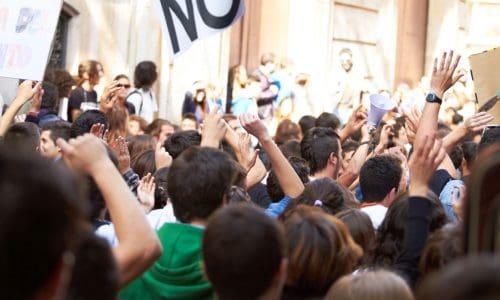 President Trump announced on Saturday that he plans to sign an executive order that requires universities to support free speech or forfeit federal resources.
In his speech to supporters at the Conservative Political Action Conference (CPAC), Trump touched upon the concerns that conservatives are being censored, whether it be on social media or at universities, reports AP News
His comments resulted in questions and confusion from those who pointed out that public research universities already have the obligation under the law to protect free speech.
"An executive order is unnecessary as public research universities are already bound by the First Amendment, which they deeply respect and honor," said Peter McPherson, president of the Association of Public and Land-Grant Universities. "It is core to their academic mission."
This new order follows an incident at UC Berkeley last week when a conservative activist was attacked while trying to recruit students for the group Turning Point USA, an advocacy group for young conservatives.
The activist, Hayden Williams, was brought up on stage by Trump during his speech at the CPAC. Trump told the audience that Williams "took a hard punch in the face for all of us."
Charlie Kirk, founder of Turning Point USA, said, "My gratitude to the president for his promise of an executive order on free speech is profound."
Trump also encouraged Williams to sue his attacker, UC Berkeley and the state of California.
Authorities arrested the suspect, 28-year-old Zachary Greenberg and charged him with assault, reports Fox News.
"He's going to be a very wealthy young man," Trump said. "Go get 'em, Hayden."
The White House has yet to offer more details of the order, but the President did say, "If they want our dollars, and we give it to them by the billions, they've got to allow people like Hayden…to speak."
The post President Trump to Sign Executive Order for Free Speech on Campuses appeared first on Campus Safety Magazine.