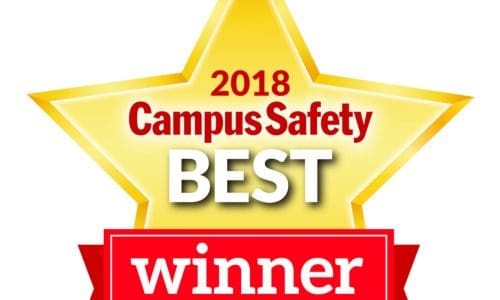 Security product vendors are encouraged to enter the Campus Safety 2019 BEST (Best Electronic Systems Technologies) Awards Program today. The awards are a great chance for manufacturers of campus security, law enforcement and emergency management products to have their offerings judged by an expert industry panel. BEST Award winners will also be honored at Campus Safety Conference (CSC) East in a special awards ceremony August 7 in Charlotte, N.C., and they will be featured in the pages of Campus Safety magazine, online at CampusSafetyMagazine.com and in Campus Safety's newsletters.
Product submissions are due May 10.
What You'll Need to Enter the BEST Awards
Indicate if the product is embargoed until August 6, 2019 (yes or no)
Product ship date
Product MSRP
Describe your product's design and/or technological innovation (<200 words)
Describe the three most important functional features of this product. What sets it apart from other products in this category? (<200 words)
Describe the benefits that your product provides to the healthcare, higher education or K-12 end user, including value if applicable. (<200 words)
Promotional description of the product to be used online and in print (<50 words)
Electronic file of company logo
Product specification sheet
Main product image
Electronic files of up to 5 product photos or videos
URL/web link to more information about the product
Enter the BEST Awards today! Deadline: May 10
BEST Award Winner Benefits
Get exposure to more than 94,000 unique browsers through an article on CampusSafetyMagazine.com
Be highlighted in a 2019 issue of Campus Safety magazine
Promotion via Campus Safety's multimedia publications.
Be granted exclusive use of the Campus Safety BEST Award Winner Logo on your company's website and in email signature lines for one year.
Be recognized August 7 at Campus Safety Conference East with awards being announced and presented during the show.
Receive a press release template that you can distribute announcing that you have won this prestigious honor
Receive a beautiful Campus Safety BEST trophy
Rules
Your product must have shipped either in the 12 months before the May 10 deadline or be set to debut in the 6 months after (between June 2018 and November 2019).
Existing products that have been upgraded or enhanced are eligible for entry.
Click here for more information and to enter the BEST Awards.
The post Enter the 2019 Campus Safety BEST Awards appeared first on Campus Safety Magazine.