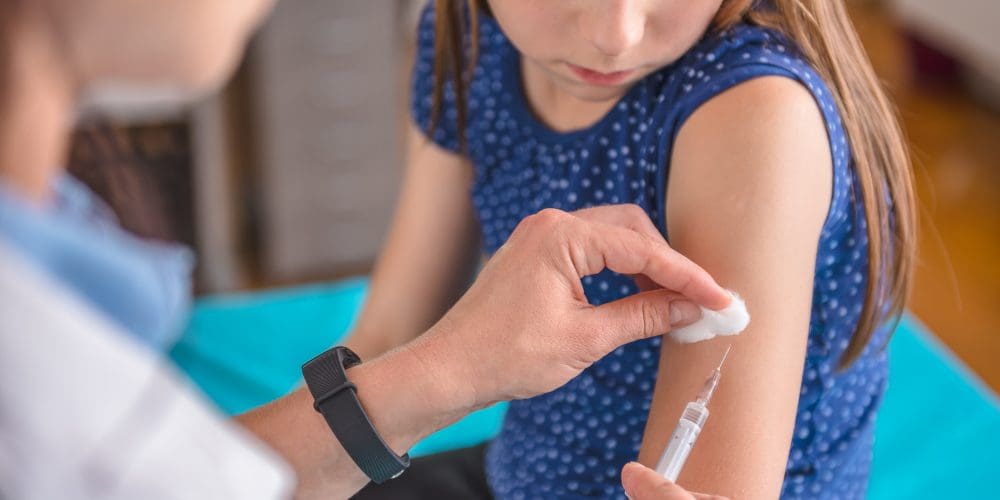 Amid the worst U.S. measles outbreak in decades, thousands of kindergarteners are still showing up to school unvaccinated.
States are debating making it more difficult for students to avoid vaccination due to religious or philosophical reasons as the outbreak continues, reports the AP. While some students have waivers for their lack of vaccinations, more states are seeing students with no reason at all.
Kindergarteners in at least 10 states can enroll for the school year without a formal exemption, according to data from the Center for Disease Control (CDC). Only 27 states submitted data for the report, so the true number could be higher.
In those 10 states, approximately 15,000 children were given exemptions compared to the 27,000 who were not.
For some families, a lack of healthcare access prevents their children from getting vaccinated, but for others, the reason could boil down to laziness, according to Melissa Arnold, CEO of the American Academy of Pediatrics' Ohio chapter.
"It really could just be, 'I didn't have time to go to the doctor,' or 'I just don't want to do this,'" she said. "From a public health standpoint, we really don't know."
While state laws require that children be vaccinated, it is not properly tracked. While experts believe it is likely that most children are getting their shots, it remains unclear.
The CDC has called on education officials to make vaccinations more of a priority as rates inch downward and diseases reemerge. According to officials, a 95% immunization rate is considered necessary to achieve resistance to the spread of a contagious disease.
"At the heart of our purpose is to have children in school; that's our role as school nurses," said Kate King, a board member at the Ohio Association of School Nursing. "We don't want to exclude them. So that's our dilemma."
Of the 27 states that reported data for the 2017-2018 school year, 60,000 kindergartners were unvaccinated without exemptions and about 70,000 were exempt.
Arkansas had the highest number of enrolled kindergarteners who were unvaccinated and did not provide a medical, religious, or philosophical waiver, followed by Ohio, reports the CDC.
States Allow Students Grace Periods to Get Vaccinated
States allow anywhere from days to months for students to get vaccinated, but according to education officials, there is no set system in place to make sure children catch up on getting their shots.
Schools are hesitant to bar students from school because it can impact their education and in some urban districts, their safety.
Pennsylvania recently shortened its grace period from eight months to five days, according to Cindy Findley, the state's acting deputy secretary for health promotion and disease prevention.
"What we'd find is children would go through the entire school year and not be up-to-date with their vaccinations and basically carry on to the next age group," she said.
Other states like Arkansas and Indiana require public reporting of kindergarten immunization rates by schools, and Colorado has made the information easy to access.
Dr. Jennifer Dillaha, medical director for immunizations at the Arkansas Department of Health, said the idea is to draw attention to the issue and to provide parents with as much information as possible.
"We have a weak immunization infrastructure," Dillaha said. "Consequently, because there are access issues, it varies from school to school how rigidly they enforce attendance requirements for vaccinations."
The post Thousands of U.S. Kindergarteners Unvaccinated, Most Without Waivers appeared first on Campus Safety Magazine.