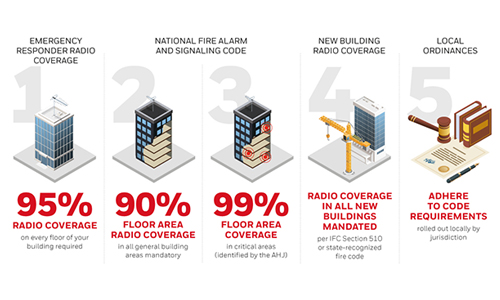 Mahesh Nanjakla, Product Manager – ERCES / BDA, Honeywell International, Inc.
Fire fighters, EMTs and law enforcement officers rely on two-way radio communications to coordinate emergency responses, evacuations and other life-saving operations. However, a 2017 survey of the International Fire Chiefs Association members* revealed that 98.5% of Fire Departments reported dead spots in buildings due to poor radio coverage. In addition, 56% of First Responders reported having experienced communications failures during an emergency incident within the prior 24 months.
As a Campus Safety Director, you need to know that your campus buildings may weaken radio signals that First Responders rely on to orchestrate emergency responses, evacuations, and other life-saving protocols. Concrete, glass windows, metal structures, below-grade build outs, RF interference, among others can cause emergency radio communications to become unreliable or drop altogether.
As a direct result of the World Trade Center disaster in 2001, the National Institute of Standards and Technology (NIST) published recommendations in 2011 to improve code and public safety. Included was a recommendation to update national fire codes to ensure reliable radio coverage in all buildings. Most current adopted Fire and Building Codes require Emergency Responder Radio Signal strength and coverage to be measured in all new and some existing construction. Code changes specifically required:
95% percent coverage of all floors of a building, at the outlined minimum signal strength into and out of the building. (2018, 2015, 2012 edition, IFC 510.4.1)
90% floor area radio coverage in general building areas, and 99% percent floor area coverage in critical areas. NFPA 1221 Section 9.6 (2016 edition) and NFPA 72 Section 24.5.2 (2013, 2010 edition)
Radio coverage shall be provided in all new buildings in accordance with IFC Section 510, or the State recognized fire code. IBC Section 916 (2015 edition) and IBC Section 915 (2012 edition)
In response, the manufacturers in the communications, fire and life safety industry developed "In-building 2-Way Emergency Radio Communication Enhancement Systems" (ERCES) to boost radio frequency signals to required levels. The ERCES systems feature Bi-Directional Amplifier (BDA) signal boosters coupled with a distributed antenna system (DAS). ERCES (also known as BDA systems) are now required by IBC, IFC and NFPA 1. These codes require ERCES to be installed, serviced and maintained in accordance with NFPA 1221 and NFPA 72.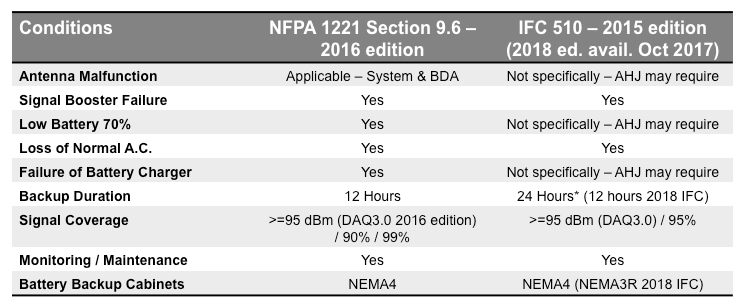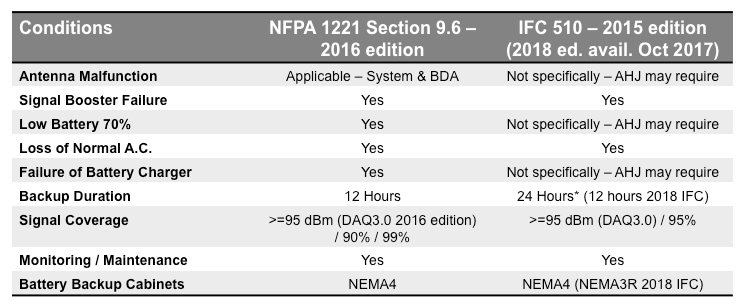 Product performance listings and standards (UL2524) were only recently introduced for ERCES/BDA systems. Prior to these new standards AHJs (Authorities Having Jurisdiction), architects, engineers, campus safety officers and building owners could not be 100% certain if BDAs were code compliant and whether they would perform as claimed by manufacturers.
As a campus safety officer, it is your fundamental requirement to ensure the safety of your student, staff and visitor population. With building codes and installation standards in place, it is in your best interest to implement those requirements at your campus level. Not only will it serve your community and safety personnel at a higher level, it will also mitigate risk and cost of retrofits down the road.
In response to public safety needs and new code requirements, Honeywell launched their first Bi-Directional Amplifier (BDA) system with a fully code compliant and UL 2524-listed system for an in-building 2-way emergency radio communications system.
Honeywell offers training sessions on BDA requirements and systems that can ensure your campus is ready for the local ordinance and code changes.
With a BDA system in place, you can safeguard not only the on-site lives and assets, but also protect first responders in an emergency. Request an assessment to see if the BDA solution is right for your specific campus.
* Safer Buildings Coalition: www.saferbuildings.org, Source: Creative Commons SBC In Building ERRCS Survey of IAFC Members, License: Creative Commons BY2.0
The post 5 Crucial RF Code Changes to Protect First Responders appeared first on Campus Safety Magazine.