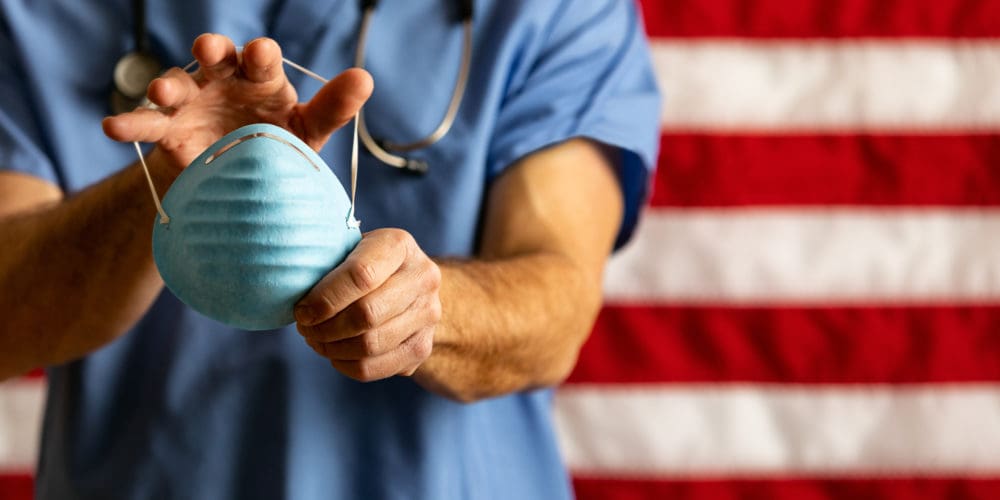 The FBI has uncovered an elaborate scheme falsely claiming to have a stockpile of 39 million N95 masks for healthcare professionals working on the front lines of the COVID-19 crisis.
The agency discovered the scam while investigating if they could intercept masks for FEMA under the Defense Production Act, reports ABC3340. In its fight against the coronavirus, the federal government has been seizing supplies of PPE and medical equipment from states across the nation.
Initially, the non-existent masks were found by the California Service Employees International Union-United Healthcare Workers West (SEIU-UHW) in late March. The union was frantically trying to find potential suppliers so they could provide personal protective equipment (PPE) for its members, reports the Los Angeles Times. The announcement of the "discovery" was published widely by the media.
However, there was no warehouse and no masks.
A businessman in Pittsburgh who had been working with the SEIU-UHW connected via WhatsApp with a broker in Australia and a supplier in Kuwait. Neither the union nor the businessman are being investigated because both appear to have been duped by the broker and supplier, both of whom are being investigated by the FBI.
No money was exchanged during the deal.
Supply chain experts say dubious brokers and suppliers have flooded the market with questionable PPE offers and claims. This has created confusion and distrust as hospitals try to obtain PPE so doctors and nurses can protect themselves when treating patients with the coronavirus, reports ABC3340.
Leaders in some states, including Virginia, say they are frustrated with the supply chain for medical gear and a lack of federal leadership in sourcing and distributing supplies.
The supply of masks is now being further strained because not only must healthcare workers be provided with masks, so must first responders, as well workers in essential businesses and the general public in some regions. Last week, Los Angeles Mayor Eric Garcetti issued a sweeping order requiring employees and customers of essential businesses to wear face masks or face coverings, although they have been encouraged to not use N95 masks and other masks designated for healthcare professionals.
The post Promised Stockpile of 39 Million Masks Is Non-Existent appeared first on Campus Safety Magazine.