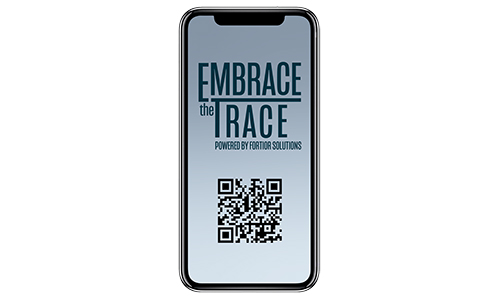 Getting back to normal
COVID-19 has created unprecedented times that have yielded both a health and economic crisis. As we continue to navigate these uncharted waters to a safe and thoughtful reopening many Gathering Places are without a good solution to assist them, requiring them to create their own version of contact tracing that is often manual and filled with room for human error. Contact tracing has been used for decades to combat virus spread and is widely recognized as an effective way to help fight the spread of COVID-19. However, at the moment programs are fragmented and contact tracers often have to rely on the recollection of the infected person making their job nearly impossible.
The new way forward
A comprehensive and effective solution that reduces wasted time, keeps employees and patrons safe with a simple to use QR code that is user controlled. In turn, this also makes contact tracers more effective by streamlining reporting and enabling timely and accurate notifications to potentially exposed individuals.
The Embrace the Trace™ program is not only the safest way forward, it is a good business decision. Ensuring the safety of employees and patrons will keep your business up and running smoothly. If you have attempted contact tracing you know the pitfalls, here's how the Embrace the Trace™ program can help:
Fully digital process – a QR code is used to scan in and out, eliminating manual tracking of individuals with paper and pen.
Create reports easily – stop wasting time preparing cumbersome reports for contact tracers with a simplified and digitized reporting system.
Eliminate your liability – the program is designed and run by data privacy experts that take on the liability burden by ensuring identifiable data only goes to authorized users.
Eliminate the need to store data – save money on cyber/IT resources and any other expenses needed to protect stored information.
Expertly handle data – scanned data is destroyed every 60 days on a rolling basis using the program, eliminating the data destruction challenge and removing further liability.
Privacy focused – Individuals control the use of the program and can opt-out at any time. Program built specifically without the need for tracking technology like GPS, WiFi, LTE, Bluetooth, RFID or NFC.
For a holistic approach to slowing the spread of COVID-19 and safely reopening America confidently Embrace the Trace™ is a contact tracing enablement solution that is affordable, inclusive and least-intrusive. For more information on how to sign-up to participate check out www.embracethetrace.com.
The post Ready to Eliminate Cumbersome Manual Work for Contact Tracing? appeared first on Campus Safety Magazine.