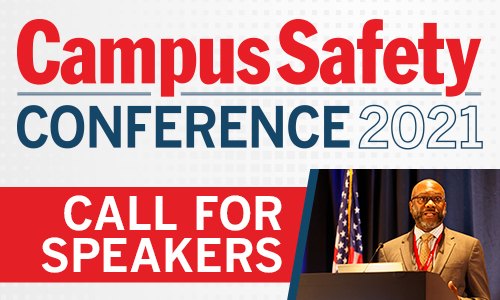 Framingham, Massachusetts – The Campus Safety Conferences, presented by Campus Safety magazine (CS), are now accepting presentation submissions for the Campus Safety Online Summit being held December 1-2, 2020 and the summer 2021 in-person programs being held in Las Vegas, NV on June 15-17, Bethesda, MD on July 12-14, and San Antonio, TX on July 26-28.
The 7th annual Campus Safety Conferences are 2 1/2 day, intensive conferences that bring together security, public safety, emergency management, administration, facilities, business, and IT professionals responsible for protecting K-12 and higher education campuses and districts.
The mission of the Campus Safety Conferences is to create a community for all stakeholders to receive time-critical education and training while building peer-to-peer relationships that facilitate year-round engagement, validation and problem solving to improve safety and security during these ever-changing and challenging times. Attendees walk away with the tools and resources needed for better preparedness, improved communication, and swift response prior to and during a variety of safety and security incidents.
Prospective presenters are encouraged to submit detailed proposals addressing safety and security for higher education and K-12 schools. The list below identifies topics for consideration.
Session topics of interest include, but are not limited to:
Addressing hazing and bullying
Conducting sexual assault, harassment and stalking investigations

Dealing with the opioid epidemic
Effective communication and emergency drills for staff, students and parents
Evaluating your campus police program in light of calls to "defund police"
Handling new mental/behavioral health concerns post-COVID-19
Implementing new or updating existing technology solutions (only case studies will be selected)
Improving staff training (adapting to change, implicit/unconscious bias, de-escalation, etc.)
Lessons learned from active assailant incidents
Managing protests on campus
New security considerations for safer learning environments
Performing threat assessments (behavioral, digital, facility)
Preparing for severe weather emergencies and natural disasters
Reporting and compliance with Clery / Title IX
Responding to campus crimes
Strategies for better re-unification plans
Situational awareness programs for students and faculty
Please submit proposals online no later than Friday, October 9, 2020. Presenters will be contacted by late December.
We invite you to submit presentations that are geared towards audience engagement and participation for an all-encompassing experience. We encourage you to visit campussafetyconference.com to view required information to prepare you for the submissions process. Please contact Amy Reddington at [email protected] with any questions. Amy, do you want to include your number too?
Vendors interested in participating in the Campus Safety Events should contact Laura McDermottat [email protected], (774) 505-8016 or download information here.
###
About Campus Safety
Campus Safety (CS) magazine and CampusSafetyMagazine.com exclusively serve campus police chiefs, security directors, IT personnel, emergency managers and executive administrators involved in the public safety and security of major hospitals, schools, and universities in the United States and North America. The magazine is issued six times per year and is distributed to more than 18,000 campus safety and security professionals.
Online, CampusSafetyMagazine.com averages 217,000 pageviews each month and is growing rapidly to serve the needs of the expanding campus safety market. CS is a product of the leading operator of business-to-business trade shows in the United States – Emerald Expositions. Emerald currently operates more than 55 trade shows, as well as numerous other face-to-face and virtual events. For more information, visit www.CampusSafetyMagazine.com.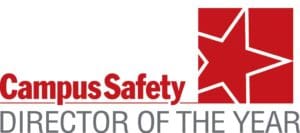 Campus Safety
is now accepting nominations for next year's
Director of the Year
award program. If you are interested in submitting a nomination, visit
www.CampusSafetyMagazine.com/DOY2021
for more information and to register.
The post Campus Safety Conference Announces 2021 Call for Speakers appeared first on Campus Safety Magazine.